---
Jan 19, 2023 at 12:26PM Update: 7 minutes ago
The Dutch hockey players played mercilessly hard on Thursday in the last group match at the World Cup in India. The Orange booked the biggest World Cup victory ever by beating Chile 14-0.
With the monster score, the Netherlands improves the record of Australia, which played hard against South Africa in New Delhi in 2010: 12-0. The Orange's biggest victory at a World Cup so far was the 8-0 victory over Italy in 1978.
The team of national coach Jeroen Delmée was one goal short of improving the biggest victory of the Dutch national team of all time. In August 1999, the Netherlands won 15-1 against Italy at the European Championship.
Jip Janssen scored four goals against Chile and together with Thierry Brinkman (three goals against Chile) is the top scorer of the tournament. The other hits came in the name of Koen Bijen (two), Thijs van Dam, Justen Blok, Terrance Pieters, Teun Beins and Derck de Vilder.
The Netherlands previously beat Malaysia (4-0) and New Zealand (4-0) and are convincing group winners. As a result, the team of national coach Delmée can skip the intermediate round and go directly to the quarter-finals, which will be completed on January 24 and 25.
In the last eight, a duel with the number two from group A or number three from group B awaits the Netherlands. Argentina and South Korea are currently in those positions, but the decisions in those groups will fall on Friday.
Biggest wins ever hockey players
1999: Netherlands-Italy 15-12023: Netherlands-Chile 14-02005: Netherlands-Poland 14-01989: Netherlands-Zimbabwe 14-12013: Netherlands-Poland 12-01979: Netherlands-United States 12-0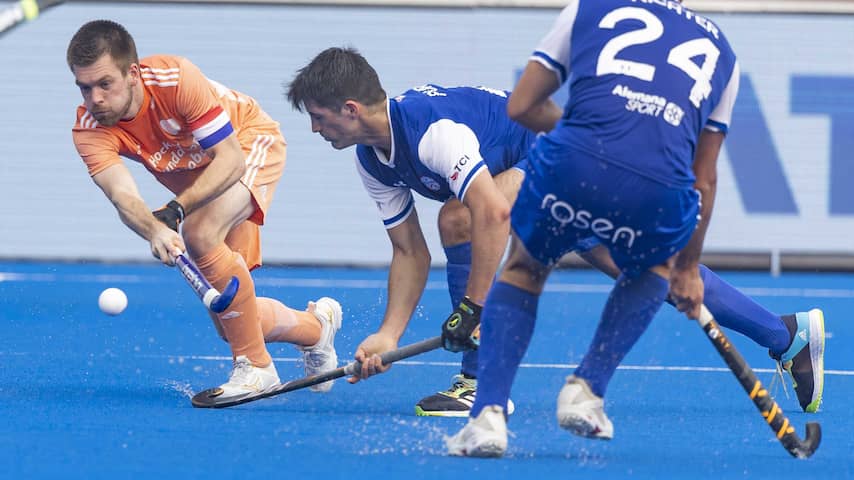 Thierry Brinkman made four against Chile. Photo: ANP
The Netherlands only on track in the second part
In the first quarter it did not seem that Delmée's men were going to write history against World Cup debutant Chile. After fifteen minutes, the losing finalist of the last two World Cups only led 1-0. The goal was scored by Janssen, who used his first penalty corner of the tournament.
It took a while for the Netherlands to further increase the score. De Vilder doubled the score in the 23rd minute with a hard shot into the top corner and after his goal the Chilean resistance was broken. Van Dam, Brinkman and again Janssen ensured a 5-0 halftime score.
After the break, Orange goalkeeper Pirmin Blaak was replaced by reserve Maurits Visser, who hardly had to take action. The Dutch attack, meanwhile, remained hungry and ran out to 11-0 in the third quarter, putting Australia's record victory (12-0) in sight.
In the fourth quarter, Bijen scored the twelfth goal within a minute and less than five minutes later, Teun Beins scored the record goal in a beautiful way. The final chord came in the name of Brinkman, who made his fourth of the game.
Image: ANP
---
Read more about:
HockeyHockeyersWK hockey
---
---
---
---