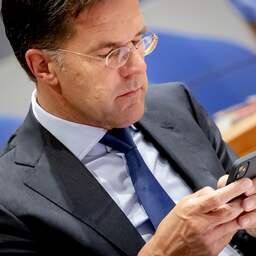 ---
Jan 19, 2023 at 10:32 Update: 18 minutes ago
Prime Minister Mark Rutte should not have deleted the text messages on his phone. By doing so, he violated the Archives Act. That is why people in key positions within the government must from now on have all their work-related chat messages automatically and permanently stored as much as possible.
That is the most important recommendation that the Advisory Board on Openness and Information Management (ACOI) published on Thursday.
In response to the deleted text messages from Rutte, the independent advisory body advises how important persons within the government should store their messages from now on. This includes cabinet members, administrators and senior officials.
It is not only about SMS traffic, but also about direct communication via the internet, such as WhatsApp and Signal
or Slack. According to the advisory board, all these messages must be stored in a management system. This should not be done manually and per message, "but structurally, as a whole and automated as much as possible", is the advice.
Ministers and administrators are advised to keep their messages forever. For senior civil servants, this is for five or ten years.
Rutte did 'real-time archiving'
For years, Rutte deleted the text messages on his phone, which was an old Nokia at the time, so that information was no longer available. He saved messages that he himself thought should not be lost.
This working method came to light after the Volkskrant had unsuccessfully requested text messages from Rutte during the corona crisis, relying on the then Government Information (Public Access) Act (Wob). The State Attorney called the prime minister's working method "real-time archiving".
The prime minister initially called his working method "in accordance with the agreements" and did not see it as a violation of the law. That is partly true, recently concluded the Government Information and Heritage Inspectorate. Rutte followed government policy, but violated the Archives Act by deleting his text messages.
Coalition parties see a trend in which important information is lost in one way or another at Rutte. This also happened in recent years with the abolition of the dividend tax, the Teeven deal, the bombing of the Iraqi city of Hawija and the "wrong memory" surrounding the debate about the "position elsewhere" for Member of Parliament Pieter Omtzigt.
Johan van Oldenbarnevelt's notes also preserved
The ACOI also makes a moral appeal to the cabinet. For example, the National Archives contains a wealth of information about important figures in national politics.
These are, for example, notes by Johan van Oldenbarnevelt (1547-1619), the most important administrator of his time. There are also reports from former VVD leader and minister Hans Wiegel and letters that former PvdA prime minister Willem Drees (1886-1988) received from citizens.
"It is precisely those kinds of archives that are valuable for historiography and exhibitions," the advisory board writes. For that reason alone, the text messages, and the old Nokia itself, should be preserved, the organization believes.
"For those who want to write a biography, for those who want to investigate the political culture in the early 21st century or for those who want to trace later on how government policy was made on any subject."
Image: ANP
---
Read more about:
PoliticsMark Rutte
---
---
---
---