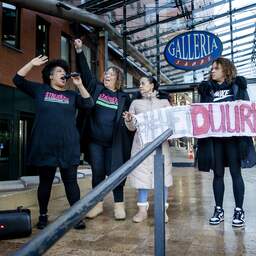 ---
Jan 18, 2023 at 9:19 PMUpdate: 4 hours ago
Those affected by the benefits scandal will have to wait years before they are fully compensated, the Association of Dutch Municipalities (VNG) fears. "If you look very soberly, then you are really heading towards 2030 for victims to have clarity," director Peter Heijkoop told Nieuwsuur on Wednesday.
Allowance parents who have not yet been compensated are helped by the municipalities. So they still have their hands full with that, says Heijkoop. He hopes that the Ministry of Finance, responsible for handling the benefits scandal, can call in extra staff to speed up the handling.
Victims have to go through a whole process before they are fully compensated. In 2020 it was announced that they would receive compensation of 30,000 euros after a short assessment. If people think they are entitled to more, a more extensive integral assessment follows. If this does not comply, the victims must go to a special committee, the so-called Actual Damage Committee.
The municipalities believe that the integral assessments will last until 2026. And assessments from the Actual Damages Committee could take until 2030, they predict. "I think that's the honest story," says Heijkoop.
Two years ago, the government promised, in its own words, generous compensation to benefit parents. From then on, a special committee also met every month to monitor the recovery operation. That committee, which is led by Prime Minister Mark Rutte, has not met for months. A spokesperson for the Ministry of Finance confirms this to Nieuwsuur.
VNG does not rule out parliamentary inquiry into recovery operation
Many benefit parents have now engaged a lawyer, according to figures that Nieuwsuur requested from the Legal Aid Board. A survey among those lawyers shows that more than half feel they cannot help properly. One of the reasons for this is the lack of or incomplete access to files.
The Ministry of Finance acknowledges that, among other things, there is too little capacity to assess applications. Many people also apply when they are not entitled to it. The VNG also sees this. All in all, Heijkoop calls it "a recipe for a stalled operation". He does not rule out a parliamentary inquiry into the recovery operation in the future.
Image: ANP
---
Read more about:
Domestic Surcharges Scandal
---
---
---
---