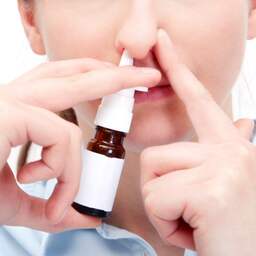 Many people are sniffling again. A nasal spray can then provide relief, but can also be addictive. On our reaction platform NUjij you were wondering today what a nasal spray addiction is and how to get rid of it. That's how it is.
A nasal spray is your best friend when you have a stuffy nose. With a blockage, the nasal mucosa is swollen, says pharmacist Annemieke Horikx, affiliated with the KNMP professional association. "Spraying nasal spray shrinks these membranes and you can breathe freely again," she says.
Many nasal sprays contain xylometazoline or oxymetazoline, often sold under the brand name Otrivin or Nasivin. These active substances immediately make it easier to breathe through your nose. Both drugs affect the blood vessels in the nose. They contract, creating more space in the nose to breathe.
According to Horikx, these agents work very well for a short period of time, but it is important that you do not use the nasal spray for too long. If you use it for more than seven days, you will become dependent on the spray and your nasal mucosa will be damaged.
Jeroen Jansen, ENT specialist at the LUMC, points to the so-called rebound effect. "Your blood vessels get used to the substance. Your mucous membranes become thicker as a result, so that your nose is full even faster and you need more and more nasal spray to get rid of it."
In addition, long-term use also has a psychological effect. "You get used to the fact that your nose is completely open, when that is not the natural state of the nose at all," says Jansen. "You think this is normal and then find it annoying that your nose is a little stuffy." As a result, you will still use more and more nasal spray.
This is how you get rid of that addiction
There are a number of methods to stop overusing nasal spray. According to Horikx, you can quit cold turkey. The first few days you will notice that your nasal mucosa feels like you have a terrible cold.
Another advice is to reduce the use per nostril. That way you first spray only one nostril and then only the other. This reduces the step to stop completely.
With both methods you will suffer from certain withdrawal symptoms. Horikx: "Your nasal mucosa wonders where the substance xylometazoline is." It can take months for your nose to recover. If you are unable to stop using the nasal spray yourself, ask your doctor or an ENT doctor for help.
There are also nasal sprays without the substance xylometazoline, which you can use for a longer period of time. Make sure that you do not become dependent on the nasal spray and adhere to the guidelines on the package leaflet. Jansen: "Nasal spray is fantastic, but ultimately does not remove the cause of your stuffy nose."
Did you find this article via Net Binnen? You can find pieces like this every day via the NUjij button at the bottom of your app!
---
---