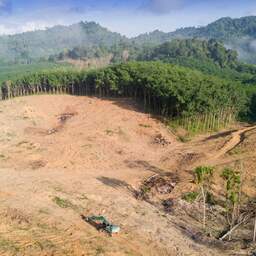 ---
Jan 18, 2023 at 1:51 PM
Part of the House of Representatives wants stricter rules for Dutch companies that are active abroad. They should pay more attention to sustainability and human rights. But the companies fear that they will have to appear in court if, for example, a supplier of a supplier does not have its affairs in order. Dredger Boskalis even threatens to leave the Netherlands.
On Wednesday, the House of Representatives will discuss the Responsible and Sustainable International Business Act, which was introduced on the initiative of cabinet parties ChristenUnie and D66 and opposition parties PvdA, GroenLinks, SP and Volt. This law prescribes that companies that, for example, obtain products from abroad, must examine whether the production involves child labour, slavery, deforestation or other environmental damage.
This should ensure that Dutch companies do more to combat abuses at companies with which they do business. Consider, for example, cocoa production, which involves child labour, or palm oil, for which tropical rainforest has been cut down.
This not only concerns the suppliers themselves, but also companies with which those suppliers work together. And that immediately identifies one of the sore points of the law. The Dutch companies state that it is difficult to investigate and tackle any abuses in the entire production chain.
Going to court would be too easy
In addition, according to critics, the law is formulated in such a way that any activist can take a CEO to court because something is not going quite right somewhere in the production chain. This makes doing business abroad very difficult.
The umbrella organization VNO-NCW would much rather see agreements of this kind made in a European context. This prevents each country from drawing up its own rules. Otherwise, a German customer may require something different from a factory in Bangladesh, for example, than a French or Dutch customer.
Proponents of the law argue that things are moving much too slowly in Europe. It is true that European legislation is on the way, but it could take years to come, and that is much too long. They therefore want the Netherlands to take steps itself, also because neighboring countries such as Germany and the United Kingdom have already done so.
The law must ensure a level playing field
It also ensures that forerunners get a level playing field. Companies that do business responsibly incur extra costs for this, for example because they buy their clothing from a factory that pays its employees well. But if their competitors only look at the lowest price when purchasing clothing, they have an advantage.
Although many companies are critical of the law, there are also proponents in the business community. Clothing chain Zeeman, among others, applauds the fact that there is now more clarity about corporate responsibility and that there will be the same standard for everyone.
Moreover, the fear of being taken to court for the slightest thing would be unjustified, say the initiators of the law. Criminal prosecution is only possible if companies do not report abuses in their reports, even though they are aware of them.
Majority is still far from certain
It remains to be seen whether the law will pass at all. The six initiators together only have 57 seats and therefore do not have a majority. CDA and VVD have already said that they do not support the proposal. The question is whether there will be enough support from other parties.
The House of Representatives will discuss it on Wednesday. This only concerns a hearing, in which stakeholders such as companies and NGOs can give their views on the law. A substantive debate in the House of Representatives will follow later.
Beeld: Getty Images
---
Read more about:
Economy
---
---
---
---