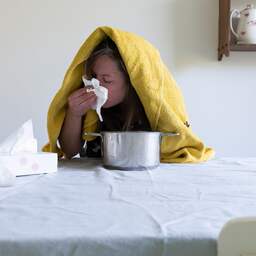 ---
Jan 18, 2023 at 9:34 PM
The number of people with the flu (influenza) has increased in recent weeks, the RIVM reports. In addition to the flu virus, other viruses are also circulating in the Netherlands that cause respiratory complaints, such as the RS virus and the rhino virus. Cold and flu remedies have been around for a while now. But which remedies really have an effect?
There is no medicine for a cold. The common cold is caused by a virus and the variants are countless. Yet there are many medicines available that are said to help with a cold.
Many of these are so-called UAD agents. These are products that may only be sold in pharmacies and drugstores. No prescription is required for this. UAD agents are also referred to as over-the-counter medications. How effective are these remedies?
Cough syrup is symptomatic, says Annemieke Horikx, pharmacist at the Royal Dutch Society for the Promotion of Pharmacy (KNMP). With symptomatic treatment, you address symptoms. The underlying cause is not treated. "Sabbling on a licorice works just as well against a sore throat as a cough syrup," says Horikx.
The inflammation causes the mucous membrane to thicken
A cold is an inflammation of the mucous membrane in the nose, throat and sinuses. The inflammation causes the mucous membrane in the nose and throat to thicken. Snot is also produced. Preventing or treating a cold with medication is not possible. You can, however, address the symptoms by using a nasal spray, for example.
Nasal drops and sprays based on xylometazoline are available at the pharmacy or drugstore. This substance reduces the swelling of the mucous membrane. Nasal spray based on xylometazoline is often effective, but you should only use it for seven days in a row. Otherwise there is a chance that the mucous membranes will be damaged.
---
Paracetamol has a fever-reducing and analgesic effect. As a result, the virus infection itself does not pass any faster.
Annemieke Horikx, pharmacist
---
Nasal drops with salt water can provide some relief. You can buy these without a prescription at a drugstore or pharmacy, but you can also easily make them yourself by dissolving a teaspoon of salt in a lemonade glass with lukewarm water.
Steaming can provide relief
The Thuisarts.nl website recommends using a few drops per day in each nostril (adults only). Thuisarts.nl is an initiative of the Dutch College of General Practitioners (NHG). The NHG produces scientifically substantiated medical guidelines for general practice, explains press officer Esther Zwart-de Bruin.
Steaming can also provide relief from a cold. According to the NHG, putting something in the water, such as menthol, makes no sense. Always watch out for burns when steaming. Due to the risk of burns, steaming is not recommended for young children.
Medicines don't help
The flu cannot be cured with medication either. People who have a greater chance of serious consequences of the flu are sometimes prescribed virus inhibitors by their GP. You must start this within 48 hours of becoming ill. According to the NHG, it is not entirely certain whether virus inhibitors actually reduce the risk of serious consequences.
With both the flu and a cold, it is mainly a matter of getting sick. The flu virus usually causes more symptoms than a cold. Fever often occurs with the flu.
If you have flu symptoms, it is best to just take paracetamol. "Paracetamol has a fever-reducing and analgesic effect," Horikx knows. "The virus infection itself does not pass faster because of this."
Unfortunately, this content cannot be displayed. We do not have permission for the necessary cookies. Accept the cookies to view this content.
Change cookie settings
Beeld: Getty Images
---
Read more about:
Flu epidemicHealth
---
---
---
---