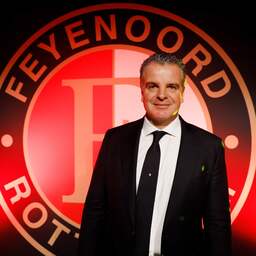 Feyenoord is considering the possibilities of becoming the owner of De Kuip itself. This was said by general manager Dennis te Kloese on Tuesday during the New Year's reception in the stadium.
"Becoming the owner of the stadium would certainly be a consideration. But we have to think about it very carefully," Te Kloese explained during the reception. "There are still a number of bills that need to be resolved and that should not be at the expense of the club."
"We have just started with a new stadium director, Lilian de Leeuw," continued Te Kloese. "She brings a fresh look, energy and new ideas. Moreover, she has a lot of experience. The full focus is now on De Kuip. We will be formally working out plans in the coming months."
Feyenoord worked for years on plans to build a new stadium. Last year, the club, led by Te Kloese, decided not to do so due to financial risks. For years, his predecessors struggled with the stadium plans and the sentiment among the supporters about De Kuip.
The nearly 85-year-old Kuip, which is managed by Stadion Feijenoord, is struggling with overdue maintenance. There is currently no money for renovation. In addition, a loan of 17.5 million euros must be repaid to an American bank.
---
---