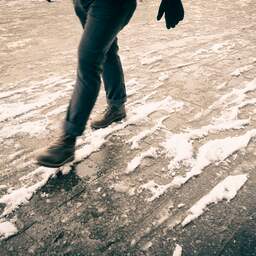 On Thursday we will have to deal with winter showers and there is a chance of smoothness due to hail and snow. The showers can continue until Friday. Heavy gusts of wind are expected in the Wadden area.
The KNMI will issue code yellow on Thursday. This means there is a risk of dangerous weather, especially when people are on the move.
Coming night and Thursday morning there is a chance of local smoothness due to hail and snow showers. Precipitation is also falling in more and more places on Wednesday evening.
The air temperature is still just above freezing in the areas that are the first to experience this precipitation. Grain hail or wet snow then falls. Thunderstorms can also occur.
Especially in the northern coastal area, the wind is picking up considerably and it will be strong to stormy with wind force 6 to 8. There is a chance of heavy gusts of wind around 90 kilometers per hour.
As precipitation moves further inland, it increasingly transitions to sleet and snow. A snow cover of 1 to 3 centimeters can occur, especially in the east and southeast. In the north there is a chance of loose hail from the sea.
On Thursday evening there is also a chance of slipperiness throughout the country due to winter showers, but also due to freezing wet roads. Due to the slipperiness, showers and heavy gusts of wind, traffic and outdoor activities may be affected, the KNMI reports.
On Friday during the day, some winter showers will again form throughout the country. It can therefore still be slippery in the morning, but with a temperature of 3 to 6 degrees, this will not last in the afternoon.
---
---