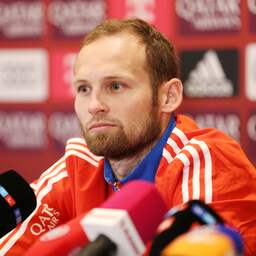 ---
Jan 18, 2023 at 7:29 PM
Daley Blind lashed out at Ajax in AD on Wednesday. The defender is not pleased with the way he was treated by his previous employer and points mainly to technical manager Klaas-Jan Huntelaar and trainer Alfred Schreuder.
Huntelaar gave his lecture on Saturday in Het Parool about Blind's departure to Bayern Munich. It would have been "a slap in the face" for the defender when he was booed by his own fans. His reserve role in the last weeks before the World Cup was then the last straw.
"He shouldn't speak for me," Blind responds fiercely in AD. "That was not the last straw at all. The last straw was: being relegated from first choice to fourth choice. And that the trainer completely ignored me after a collision at halftime against RKC."
With this, Blind refers to an argument with Schreuder at the end of October. "What happened there caused a lot. We didn't play well. Schreuder started at halftime about the fact that we didn't put pressure on properly. That had to change. 'What do you think?', he asked a few attackers."
"I then got up and said out loud in that dressing room: trainer, be clear and decide for yourself how we are going to implement it!", says Blind. "There was emotion and his reaction was just as fierce: 'You shut up! Shut your mouth and sit down!'"
'Huntelaar turns me on against the supporters'
After the collision with Schreuder, Blind increasingly found himself on the reserve bench. "Let me be clear, I have no doubt that it became personal after RKC," says the defender about the relationship between him and the Ajax coach. "I am convinced."
At the end of December, the marriage between Blind and Ajax was finally over. The Amsterdam club announced that the left back's contract had been terminated. At the beginning of this year, the surprising switch to Bayern and Huntelaar's interview in Het Parool followed.
"He turned me against the supporters," says Blind. "I immediately texted him that. As I also find it typical that Ajax is the first to go public, while a mutual penalty clause has been included in the dissolution agreement: I wouldn't say anything about Ajax, they wouldn't say anything about me."
Beeld: Getty Images
---
Read more about:
AjaxDaley Blind Voetbal
---
---
---
---