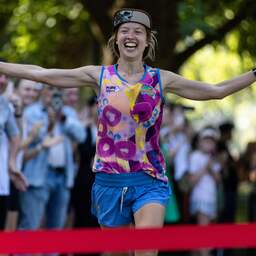 An Australian woman has set a record by running a marathon 150 days in a row, reports BBC News. In this way she walked a total of 6,300 kilometers across Australia, from the northernmost tip of Cape York in Queensland to the southern port city of Melbourne.
Erchana Murray-Bartlett enters the Guinness World Records book with her achievement. She is officially the woman who has run a marathon for the most consecutive days. The previous record was 106 and was held by Britain's Kate Jayden.
The 32-year-old Australian raised 100,000 Australian dollars (about 65,000 euros) for charity with her run. The money will go to the Wilderness Society, which is committed to the protection of animals and nature in Australia.
Murray-Bartlett was a professional marathon runner for many years. After failing to qualify for the 2020 Tokyo Olympics, she focused on her other big dream: running across Australia in marathons.
The five-month marathon streak was a tough ordeal even for the veteran Murray-Bartlett. She had to deal with injuries, blisters and insect bites. She sometimes ran in temperatures of more than 35 degrees and sometimes in hard driving rain.
By the time she reached Melbourne, her feet were so swollen that her running shoes had to be a size larger than when she started. She wore out a total of ten pairs of running shoes.
---
---