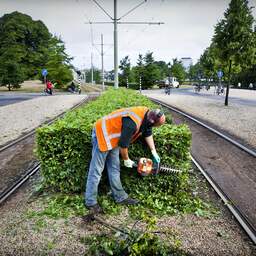 ---
Jan 17, 2023 at 9:32 PM
How much you can earn in your profession in the Netherlands largely depends on your sector or branch, and sometimes the degree of entrepreneurship. But how high are the wages for different professions exactly? This week we take a closer look at the salary of park employees and landscaping employees.
"Always nice to work outside in the green, who wouldn't want that?" The answer to that question from park employees themselves will vary. They have to deal with the current weeks of wind and rain, major periods of drought and sometimes extreme heat and cold that climate change brings.
The manual work often takes place on sports grounds, in parks or in cemeteries in the public space. You see a lot of the area, but it also sees you.
In addition, you have to deal with noise and sometimes the honking or comments of passers-by when working along the roads.
How do you become a park employee?
With a diploma of VMBO or of the entry training for MBO, or with three years of HAVO/VWO, you can start a BBL trajectory for a landscaping employee or a parks employee. You will work in practice for four days and attend classes for one day.
You learn about machines, tools and techniques with work in private gardens and public green areas such as (sports) parks. There are also specific training courses such as industry training courses from VHG, the association of gardeners.
There are now also subsidy schemes for training via Colland Arbeidsmarkt, the training and development fund for the agricultural and green sector. For example, you can follow a BBL course that costs a maximum of 3,000 euros in the first year, 2,000 euros in the second year and 1,000 euros in a possible third year. A reimbursement of 75 percent is available for technical courses, for example for handling machines.
What does a starting park employee earn?
Jeroen Warnaar, negotiator for the Collective Labor Agreement for landscaping companies at CNV Vakmensen: "The level of the salary depends on whether you are employed by the municipality or by a landscaping company. In recent decades, work has increasingly been outsourced by municipalities, both to landscaping companies and sheltered employment for, for example, people with a distance to the labor market."
In the Collective Labor Agreement for Gardeners, the positions vary from assistant to foreman. An assistant starts with a salary of 1,900 euros gross per month. A qualified landscape gardener earns from 2,100 euros gross per month on the basis of the collective labor agreement.
In the Municipal Collective Labor Agreement, the minimum hourly wage, which often counts for park employees, has been raised to 14 euros gross. This means a salary of 2,100 euros per month. Warnaar: "I expect that this 14 euro minimum hourly wage will be introduced in the negotiations on a new Collective Labor Agreement for Hoveniers as of 1 July 2023."
Vacancies on the National Vacancy Bank currently list minimum amounts of 1,750 to even 3,100 euros. But for less than the mentioned minimum of 2,200 euros per month you probably don't have to get started with a full working week, given the tightness on the labor market.
---
On February 1, employees will receive an additional 3 percent.
Jeroen Warnaar, CNV Professionals
---
What is asked of you for that salary and what extras do you have?
The collective labor agreement for landscape gardeners, which will run until mid-2023, provides for a wage increase of 8 percent, plus 1 percent for the bottom steps and a one-off bonus of 300 euros. Warnaar: "The unforeseen high inflation has also led to an interim adjustment in this sector. On February 1, employees will receive an additional 3 percent."
Employees receive five weeks of vacation and 50 to 100 percent allowances for weekend work. In addition, as of 1 January 2023, an Early Retirement Scheme (RVU) will apply. In addition, employees can stop working completely three years before their AOW date, with a payment of EUR 1,874 gross per month (including holiday allowance) for full-time employment.
How high can the salary of a park employee be?
Warnaar: "The collective labor agreement has the character of a minimum collective labor agreement. This is increasingly deviated from in a positive way, given the tightness on the labor market and fast-growing demand in recent years. If you make it to foreman (m/f), you can according to the collective labor agreement, this will amount to almost 3,300 euros gross per month. If you remain a green space employee throughout your life, the salary table will have a maximum of more than 2,400 euros per month."
For the Collective Labor Agreement of Municipalities, the top salary to be achieved as a park employee depends on the scales offered. The salary can exceed 3,000 euros per month.
How is the industry doing?
CNV and FNV have made good agreements with employers about training for green workers. For example, 1,500 euros is available per employee, even to follow training for retraining to another profession.
Warnaar: "We are jointly focusing on influx and lateral inflow. We are campaigning to interest people in the gardening profession with opportunities for retraining and the subsidies mentioned."
Unfortunately, this content cannot be displayed. We do not have permission for the necessary cookies. Accept the cookies to view this content.
Change cookie settings
Image: ANP/ Ilvy Njiokiktjien
---
---
---
---