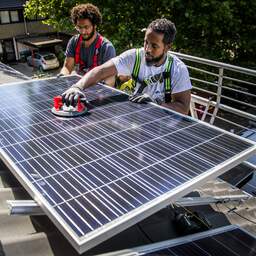 The social challenges in our country are causing more demand for personnel in various sectors. For example, people who contribute to the energy transition, such as solar panel installers and sustainability consultants, are currently in high demand.
They are also looking for project leaders in housing, healthcare and education personnel. This is what temporary employment agency Randstad mentions on Tuesday in its annual list of promising professions.
The shortage on the labor market is also leading to a greater demand for absenteeism advisers. Due to the shortage, the workload is increasing, which is why companies are looking for HR and absenteeism consultants. The latter profession is on Randstad's list for the first time. In order to get more people to work, the demand for pedagogical employees in childcare is also growing. In total, there are more than two thousand vacancies in this sector.
Increased inflation also has an effect on vacancies. To save on costs, many companies look for skilled purchasing consultants. On the employee side, the demand for debt counselors has increased. They help people with financial problems caused by the high cost of living.
---
---