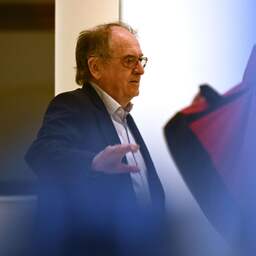 The French judiciary opened an investigation on Tuesday into Noël Le Graët, the suspended president of the French football federation. The 81-year-old Frenchman is said to have been guilty of transgressive behavior.
The investigation follows an internal investigation at the French Football Federation (FFF) and a report by the IGÉSR inspection body, which includes numerous testimonials from alleged victims of Le Graët.
Following the internal investigation, the FFF decided last Wednesday to put the much-discussed Le Graët on hold. In any case, he may no longer do his job until the outcome of that investigation.
In recent months, several women have accused Le Graët of transgressive behaviour. They accuse him of psychological and sexual harassment. One of the witnesses, agent Sonia Souid, came out of anonymity in September to tell her story.
Recently there was also a lot to do about Le Graët because of statements he made about Zinedine Zidane. The FFF chairman was tough on the football legend when asked if Zidane was a candidate to become France manager.
It led to criticism from star player Kylian Mbappé, among others. A number of former French internationals also indicated that they were absolutely not happy with Le Graët's lyrics.
The federation chairman, who agreed a new contract with current national coach Didier Deschamps despite the lost World Cup final against Argentina, apologized for the Zidane riot.
---
---