Director James Cameron turned out to be deadly serious when he announced a while back that he was conducting research to debunk the theory that Kate Winslet and Leonardo DiCaprio both fit on a piece of floating debris in his film Titanic (1997). In a new clip of the documentary we see how this research was carried out. The images can now be seen.
Was it unnecessary?
In the new video from the upcoming documentary Titanic: 25 Years Later, Cameron watches as the stunt workers reenact the tragic scene where Rose and Jack fight for their lives. Ever since the movie hit theaters in 1997, fans have been speculating about this particular scene arguing that both Jack and Rose could have floated on top of the debris. In the film things went differently and Jack sacrificed himself so that Rose was partly spared from the cold water.
A thorough forensic analysis
We've done scientific research to put this whole thing to rest. We have now done a thorough forensic analysis with a hypothermia expert who has reproduced the raft from the film and we are going to make it into a small special that will be shown from February.

James Cameron
The 25th anniversary
In the United States, Titanic: 25 Years Later can be seen on National Geographic from February 5. It is not yet known whether the documentary will be released in the Netherlands on the same day.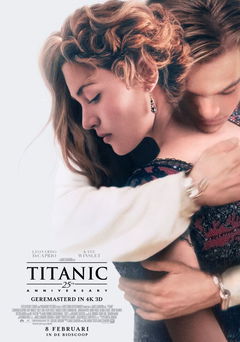 7.9
Rose (Kate Winslet) is a young, wealthy woman trapped in a stifling world with an arrogant husband.
In celebration of the 25th anniversary of Cameron's Titanic, the classic returns to cinemas for a limited time from February 8.
Beeld: Copyright The Walt Disney Company, 2022
---