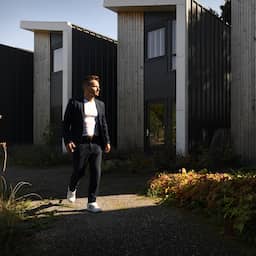 To alleviate the housing shortage, the number of flexible homes is increasing rapidly. It may sound contradictory to buy such a temporary home, but that is exactly what project developer Luck Dankers did. Although it is not that easy.
This article is from the Volkskrant. Every day a selection of the best articles from the newspapers and magazines appears on NU.nl. You can read more about that here.
A detached, energy-neutral house with a large garden and a mortgage with total monthly payments of less than 500 euros. "Who wouldn't want that?" says Luck Dankers (38), who lives in such a house in Aarle-Rixtel in Brabant. There is one big but: his owner-occupied home with a living space of 68 square meters is a flexible home, consisting of two stacked prefab residential modules, which can only be used for fifteen years at the current location.
Flexible homes as owner-occupied homes: the ten homes with striking sloping roofs in Aarle-Rixtel are the first proof that it is possible. They are in a ring around a spacious, communal vegetable garden, on a site in a regular residential area. It is currently the only flexible purchase project in the Netherlands. But Dankers, probably the only Dutch project developer in flexible housing who lives in one himself, predicts that this will soon change.
Flexible homes are on the rise, especially now that housing minister Hugo de Jonge is putting the spotlight on it. In the ongoing housing shortage, the temporary modular homes should give status holders and young people some perspective on a roof over their heads. Preferably, they meet the same quality requirements as a permanent home.
With that higher quality, flex homes can also become more 'luxurious'. They are no longer by definition in the social rental sector. A modest part is already offered in the private sector, with a rental price above 760 euros per month. For example, large, ambitious flex housing projects being developed such as De Stek (Den Bosch) and Buurtschap te Veld (Eindhoven) will also include homes in the mid-rental segment. Texel also has plans for this.
Buyers must 'make a switch in their heads'
But the housing module as owner-occupied? In a place where you can only stand temporarily? That sounds like a step too far to many. Also for the banks. "Due to the temporariness, mortgage financing of flex housing is difficult," explains a spokesman for the Dutch Banking Association. "If houses are only allowed to stand somewhere for, say, fifteen years, the mortgage must be paid off in fifteen years, which is tight."
Perhaps a bigger hurdle is that buyers of a flex home first have to 'make a switch in their head', as Dankers puts it. Buyers of a traditional permanent home expect to make a real estate investment for life. Anyone who buys a flex home only owns the residential modules, which can last at least fifty years, but are certainly not as stable in value as a permanent home. The flex home buyer does not own the land, which is leased from the municipality.
"When the time goes by that you can stand somewhere with your house, you don't have much," Dankers acknowledges. "You have a movable house, not land." He himself already made that change in his head when he lived in a much more spacious owner-occupied house in a Vinex neighbourhood, with rooms 'where he sometimes didn't come for days'. When he heard about the plan to build flex homes on a site in a residential area in Aarle-Rixtel, where until about ten years ago a scouting club was housed – hence the name De Hopman, he decided to co-develop the project. "I'd rather have this in the coming years with much lower monthly costs than have to bend over for a mortgage until retirement."
Dankers is so enthusiastic about this construction that he is committed to it as a project developer. According to him, the flexible owner-occupied home can be an alternative for young people who cannot buy a house on the regular housing market. According to him, temporariness need not be a problem. "On average, people do not live in a house for more than eight years."
Municipalities are hesitant
Dankers is not the only one who sees opportunities in the flexible home as an owner-occupied home. Legal financial advisor Peter Kamp has already tried to promote this construction. In his work in the social sector, Kamp sees many people struggling with housing problems, he says. "Some people with a low income could be cheaper with a flexible owner-occupied home than if they had to rent," he thinks. "This is a way for more people to own their own homes."
But setting up neighborhoods with flexible owner-occupied homes is by no means simple, Dankers notes. The municipalities with whom he is talking are currently hesitant to make land available for this. Banks also find it difficult that they do not have the clear collateral that a regular home offers.
Residents of so-called tiny houses – houses of up to 50 square meters with a minimal ecological footprint – have already allowed the mortgage lenders to get used to deviating forms of housing with such less clear collateral. Those who managed to get a mortgage for it met a number of conditions, says tiny house pioneer Marjolein Jonker: "The house had to comply with the rules of the permanent building decree. And the land must be owned or there must be an agreement for perpetual leasehold ."
It is precisely the latter that does not apply to a flexible home, which by definition may only be temporarily located at a certain location. Dankers heard from the banks that they wanted a guarantee of at least twenty years, while the flex homes in Aarle-Rixtel may only be on the former scouting site for fifteen years. To achieve this, the residents of De Hopman made an agreement with the municipality of Laarbeek, from which they leased the land. Laarbeek gives the residents a guarantee that they will get a new location for their homes within the municipal boundaries for a period of ten years, once the fifteen years have passed that they can stand on the current site. Per month, the residents owe the municipality less than 100 euros in leasehold.
"A mortgage must be paid off"
Triodos Bank dared to take on this municipal commitment. He financed Dankers' mortgage of 110,000 euros for 25 years; most other residents of De Hopman are also members of that bank, which according to many people involved is most open to alternative forms of housing.
"In the current housing shortage, more and more people are looking for a creative solution to still live affordably," says Jeroen Pels, responsible for mortgages at Triodos. He emphasizes that buyers should not only opt for flex homes or tiny houses because that would be cheaper. "If they want that, for example because they advocate a sustainable form of living together, we certainly want to think along. But sometimes the term is not long enough. A mortgage must be paid off."
But it is possible, says Dankers, if he proudly shows his home. It consists of two modules, largely made of wood, from the Barli factory and meets the requirements of the permanent building code. A designer has designed a floating sofa and 'smartly placed' cupboards especially for the space, in order to make optimal use of the modest surface area of ​​his home – just under 70 square metres, divided over two floors. There are many plants. Through the window he points out to his spacious private garden. "Beautiful right?"
Sales of new construction have fallen sharply since 2015
Sales of new homes have plummeted. More than a third fewer new homes were sold in the third quarter of 2022 than a year earlier. This is evident from new figures from Statistics Netherlands, the Kadaster and Eurostat.
This is the biggest decrease since 2015. Buyers paid 13.7 percent more than in the same period a year earlier. Compared to the second quarter, the price was still considerably lower. The average sales price fell in three months from more than 500,000 euros to almost 474,000 euros.
Last week, the real estate association NVM already announced that sales of new construction had fallen significantly, including sales in the fourth quarter. According to the NVM, the number of sales fell by 46 percent on an annual basis. The offer also doubled. The NVM assumes signed purchase contracts. Statistics Netherlands bases itself on the (more certain, but later) transfers at the civil-law notary.
---
---