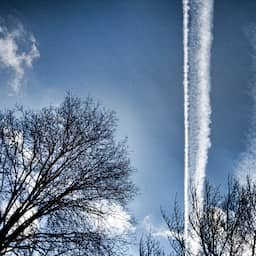 If the environmental costs of aviation are included, the price of a ticket is much higher. Exactly how much, that has now been calculated: it can save hundreds of euros.
This article is from Trouw. Every day a selection of the best articles from the newspapers and magazines appears on NU.nl. You can read more about that here.
How expensive is air travel really? Flying to Indonesia is possible, barring stunt prices, for about 940 euros. But if the costs for the air pollution caused by such a trip are included, plus the costs for climate damage, such a return ticket would be more than 720 euros more expensive.
It is one example from the research that the organization True Price carried out on behalf of the travel platform Better Places. True Price has been researching the 'real' prices of products and services for over ten years. That is to say: the market price plus the costs of negative effects that are not included in that price and that society as a whole therefore pays for. In addition to climate and environmental costs, this also concerns, for example, the consequences of poor working conditions.
True Price has already done such research for jeans, flowers, paint and much more, and now for aviation. There is no doubt that flying causes damage. Better Places founder Saskia Griep wanted to know how its cost would translate into the ticket price. "Not to make everything more expensive," she says, "but to ensure that products and services become less harmful. For that you first need to know what the hidden costs are."
150 euro per ton CO2
In this study, True Price limited itself to climate and air pollution. The climate damage was calculated by checking how much kerosene is needed for a flight. An amount of 150 euros was then charged per tonne of CO2 released during production and combustion, a commonly used standard amount in such research. Pollution by sulfur dioxide, nitrogen oxides and particulate matter, among other things, was converted into euros using a similar method.
The 'fair' amounts calculated in this way are considerably higher than the current ticket prices. Within Europe, at least 70 euros will be added, flying up and down to Barcelona, ​​for example, would then have to cost 150 euros more. For destinations far away, this involves hundreds of euros. A return to Suriname is 480 euros more expensive, up and down to Bangkok is even 580 euros more expensive. Roughly 80 percent of the extra costs are due to climate damage, the rest is related to air pollution.
Aviation is already facing price increases, but they are much less drastic. In the Netherlands, the flight tax has already gone from 7.95 to 26.43 euros per ticket. On top of that come the amounts that airlines within Europe will pay for the right to emit CO2. Until now, these allowances for aviation have been largely free, but the European Union is putting an end to that. As a result, a return ticket to Barcelona will be 47 euros more expensive, according to calculations by ABN AMRO last week – still far from the 150 euros extra from True Price.
Something you know with common sense
For example, True Price's figures do not include health damage due to noise nuisance or the loss of biodiversity. "That's the next step," says Michel Scholte of True Price. How high will the real prices be then? That is a guess, he says, but on the basis of previous studies he dares to make a prediction: again considerably higher.
"These calculations always provoke discussion," says Paul Peeters, lecturer in sustainable tourism at Breda University. "Behind every figure there are interpretations. There is a risk to that: the discussion should not be about something that you also know with common sense." But True Price's research is 'very decent', he believes. "The results should make airlines think about their corporate policies: how can they get rid of that damage?"
Client Better Places wants to use the survey mainly for 'awareness', also among consumers. Hopefully travelers will make different choices when they see the effects of their flight, says Saskia Griep. "For example, by going to Spain by train because the real price of a train ticket is much lower than the real price of a plane ticket."
---
---