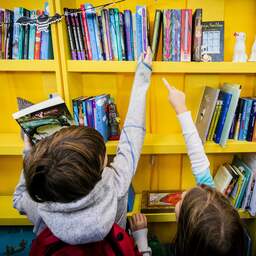 Sanne Rooseboom is writing the Children's Book Week gift this year. This year, author Pim Lammers will provide the poem for the Children's Book Week, which will take place from 4 to 15 October.
Rooseboom is known for the popular series The Ministry of Solutions and the children's book Mot and the metal fishers.
Lammers won a Zilveren Griffel in 2018 for his debut Het lammetje that is a pig, making him the youngest winner ever. He now has several titles to his name, including a large number of children's books about gender and sexual diversity.
Two-time Gouden Penseel winner Yvonne Jagtenberg is making this year's Picture Book of the Children's Book Week. And Iven Cudogham writes the Children for Children song. This year, the BNNVARA children's choir is making a song for the theme of the Children's Book Week for the twelfth time.
This year's theme is At My Home. "Books stimulate the conversation to tell about home and are an inexhaustible source of different points of view," says book umbrella and organizer CPNB. "At my house we read every night before going to sleep. At my house you can look very far above the city. At my house we celebrate Eid. At my house two moms live. At my house all doors are wide enough for the wheelchair from my little brother. How are you at home?"
The Children's Book Week takes place in October for the 69th time. During that period, children receive the Children's Book Week gift in the bookshop if they spend at least 13.50 euros on children's books.
---
---