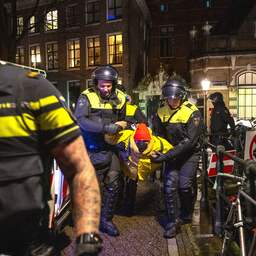 The mobile unit (ME) of the police was deployed on Monday evening at a student protest at the University of Amsterdam (UvA). Dozens of students have been occupying part of the university's Binnengasthuis since Monday afternoon. They want the university to end its collaboration with Shell.
With the occupation, the activists are guilty of breaching local peace, a spokesman for the Public Prosecution Service (OM) said. "That is why it has been decided to evacuate." The ME started this around 8.30 pm.
According to a spokesman for the activists, "dozens" of activists have holed up in the building of the former Academic Club. "They're not coming out for the time being."
According to the spokesman, there are also about seventy to eighty people demonstrating outside the building. They have no intention of leaving. "We want to show solidarity with those inside."
Earlier in the day, a representative of the university's Executive Board spoke with the activists. In addition, the Executive Board has announced that occupancy is not permitted at the UvA. Because the activists could not immediately promise whether they would leave, the UvA filed a report of trespassing.
---
---