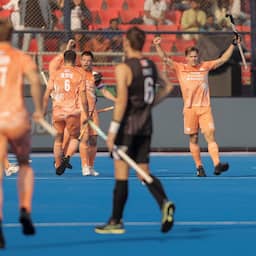 The Dutch hockey players also won the second game at the World Cup in India on Monday. The team of national coach Jeroen Delmée easily dealt with New Zealand: 4-0
The Netherlands never ran into problems against New Zealand, which on paper is the best opponent in the group stage. Halfway through it was already 0-3 by goals from Thierry Brinkman (two), Koen Bijen and Tjep Hoedemakers. In the final phase, Hoedemakers determined the final score at 0-4.
That final score was also on the board after 60 minutes in the first match of the group stage. Then the Netherlands played against Malaysia, the number eleven in the world ranking. New Zealand is ninth on that ranking
The Netherlands closes the group stage on Thursday with a match against World Cup debutant Chile. The Orange is already certain of a place in the last three and therefore a place in the knockout phase. The group winner goes directly to the quarter-finals, the numbers two and three play an intermediate round.
In India, the Netherlands is hunting for its first world title since 1998. In the last two editions, the Netherlands missed out on gold in the final battle. Belgium won in 2018 after shoot-outs and is therefore the defending champion in India.
---
---