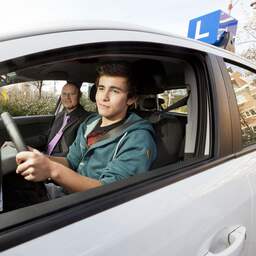 ---
Jan 16, 2023 at 9:32 PM
2toDrive offers young people the opportunity to gain experience behind the wheel of a car before their eighteenth birthday. To be allowed to drive a car at the age of seventeen, you will need one or more permanent supervisors in addition to a provisional driving licence. What is involved in becoming a supervisor and what are the conditions?
The 2toDrive program started in 2011 as an experiment to improve the driving skills of novice drivers and thus reduce the risk of (fatal) accidents. According to the Road Safety Research Foundation (SWOV), the group of car drivers up to and including 25 years of age has a 4.5 times higher chance of a fatal accident than older drivers due to a lack of experience. That is why young people can take the theory exam from the age of 16, and driving lessons can start six months later. From the 17th birthday, a practical exam for the driving license can be taken. The lucky one may then – under certain conditions – start making kilometers.
SWOV has not yet conducted any research into effects
Have there indeed been fewer fatal accidents since the introduction of 2toDrive? It's not hard to do with numbers. Only an interim evaluation was drawn up during the experiment in 2015. After 2toDrive was converted into a legal regulation in 2018, no specific research has been done into the effect on road safety.
Since the start of 2toDrive, more than 435,000 young people have gained their first driving experience in this way. They have to comply with the same rules as for the normal B driving licence. You can therefore drive a vehicle up to 3,500 kilos and possibly tow a trailer for which no additional E-driving license is required. You may only obtain a driver's license for another vehicle from the age of 18.
Supervisors need an official pass
The most important condition for being allowed on the road as a seventeen-year-old driver is the presence of a registered attendant in the car. A young person can register a minimum of one and a maximum of five people for this purpose. To be a 2toDrive companion, you must be in possession of a special pass. You can request this from the RDW if you meet the following conditions:
you have had a valid passenger car driving license from an EU or EFTA country for at least five years you are at least 27 years old you officially live in the Netherlands you have not been convicted of a traffic offense in the past four years you have not taken a compulsory alcohol or behavior course in the past four years your driver's license may not have been (temporarily) invalid in the past four years due to your fitness to drive
If you are on the road as a supervisor, you must be able to show your driver's license and you must not be under the influence of alcohol, drugs or medication. If you have a code 100 or 101 on your driving licence, you cannot become a 2toDrive companion. A recognized driving instructor is allowed to accompany a 2toDrive driver at the age of 23. Each supervisor must apply for their own pass, which costs 25 euros per pass.
The supervisor must always sit next to it
Unlike driving lessons, with 2toDrive the person behind the wheel is also the legal driver. In other words: the coach is not liable for traffic violations committed by the seventeen-year-old.
Another special fact: an attendant must always sit next to the driver. If a coach does not meet the requirements, the driver is liable. This can result in a fine of (currently) 140 euros.
There are no specific rules for the vehicle with accompanied driving: you do not need to have a sticker for identification, as is sometimes the case in other countries.
Insurance sometimes has a hard time with seventeen-year-olds
An important point of attention is insurance. Most seventeen-year-olds do not yet have their own car and will often make their first kilometers in other people's cars. Most insurance policies allow this, but as a policyholder, keep in mind that any damage cannot legally be averted from the driver. You will have to solve this privately.
If the 2toDrive conditions are not met and you still go on the road, the insurer can also decide not to pay out. Therefore, first inquire with your insurance company whether and how your car is insured if you let a 2toDrive driver drive it.
If the novice driver already has his own car, the question is whether he or she can insure it. Not all insurance companies accept 17-year-olds as clients for car insurance. If you want to rent a car, as a seventeen year old you are often left empty-handed. Most rental companies require a minimum age of 21 for the driver.
Unfortunately, this content cannot be displayed. We do not have permission for the necessary cookies. Accept the cookies to view this content.
Change cookie settings
Image: ANP
---
Read more about:
CBREconomieAuto's
---
---
---
---