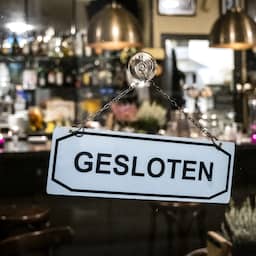 ---
Jan 15, 2023 at 05:41Update: 6 minutes ago
The Netherlands is getting fewer and fewer café owners. This is partly due to higher costs, the lockdowns and because cafés are being converted into, for example, a lunchroom or coffee shop.
The decrease in the number of pub owners is evident from figures from Statistics Netherlands and is confirmed by the KHN catering association. At the beginning of this year there were 8,125 companies with one or more pubs. That was still 10,470 ten years earlier.
During the corona crisis, many companies had to draw on their reserves. And recently there have been significant price increases on top of that. Energy in particular became considerably more expensive, while many rents also went up and pub owners have to pay more to buy drinks.
This spring, many companies will still have to cough up the taxes they did not have to pay during the pandemic. Many entrepreneurs have therefore given up or will do so this year, it is expected.
The number of pubs was already falling before the pandemic
Yet the pandemic and recent inflation are not the only causes. After all, the number of pubs and pub owners was already falling before the corona virus hit almost three years ago. In fact, the CBS figures show that the number has been declining continuously for fifteen years.
"The number of traditional cafes has indeed been declining for years," reports a KHN spokesperson. "On the one hand this is because catering entrepreneurs stop their business, on the other hand because some have their company taken over or start with a different concept."
The rise of festivals hurts cafes
The emergence of festivals – which are especially popular among young people – changing nightlife habits and the introduction of the smoking ban are also mentioned as reasons that the traditional pub is losing ground.
Still, KHN is not gloomy about the future. "We see that the cafes that are still there have had more turnover last year. And cafes do a lot to offer their guests an experience. We also see that the decline is less and less fast."
Image: ANP
---
Read more about:
Economy
---
---
---
---