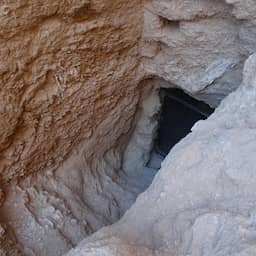 Near the Egyptian city of Luxor, archaeologists have discovered a 3,500-year-old tomb. The tomb may have been built for a princess of the royal family of the Eighteenth Dynasty (1550-1292 BC).
The tomb was found on the west bank of the Nile near Luxor, where the Valley of the Kings and the Valley of the Queens are also located. The tomb was excavated by British and Egyptian researchers.
Based on the initial findings, Mostafa Waziri, head of the Supreme Council of Antiquities, suspects that the tomb dates back to the time of the pharaohs Akhenaten and Tutankhamun.
The tomb may have been built for a princess, according to British researcher Piers Litherland of the University of Cambridge. The period of the Eighteenth Dynasty is considered one of the most prosperous in Ancient Egypt.
The inside of the tomb is in poor condition. Among other things, inscriptions have been destroyed. This is probably due to flooding.
---
---