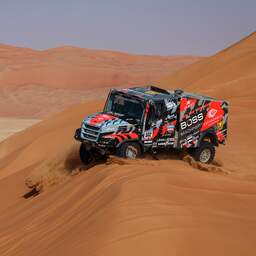 Trucker Janus van Kasteren has almost won the overall victory in the Dakar Rally. The 36-year-old from Brabant did excellent business on Saturday in the penultimate stage.
Van Kasteren finished second behind the Czech Martin Macik in the test between Shaybah and Al Hofuf. Our compatriot conceded only three minutes and 25 seconds.
Van Kasteren also saw Martin van den Brink drop out of the top regions of the standings. Van den Brink, who was second in the ranking after twelve stages, was experiencing major problems with his truck.
In the last stage, Van Kasteren defends a lead of one hour, sixteen minutes and 42 seconds on Macik on Sunday. Mitchel van den Brink is third in the standings at more than four hours. The final stage has hardly any obstacles, so that Van Kasteren can hardly miss the overall victory.
In recent years, Kamaz drivers have dominated the Dakar Rally for trucks. As a result of the Russian invasion of Ukraine, that team will be banned this year, which greatly increased Van Kasteren's chances.
The Dakar Rally, which started on January 1, will be held in Saudi Arabia.
---
---