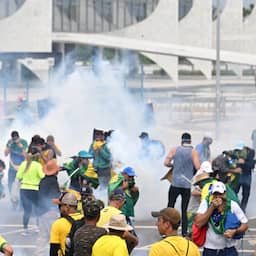 A Brazil Supreme Court judge has authorized an investigation into former President Jair Bolsonaro's role in Sunday's storming. Supporters of the former president stormed government buildings that day. Brazil's public prosecutor's office asked the Supreme Court for permission on Friday.
The prosecutors are mainly concerned with a video that Bolsonaro posted online at the beginning of this week. It questioned the legitimacy of the presidential election. By that video "Bolsonaro would have publicly initiated the commission of a crime".
The video was only posted after the storming. Still, prosecutors see enough evidence to launch an investigation into Bolsonaro's actions before and after the storm.
Bolsonaro's supporters stormed the parliament building, the presidential palace and the Supreme Court on Sunday. Only after a few hours did the police gain control of the situation. The supporters do not accept the swearing in of the new president Luiz Inácio Lula da Silva. They believe the presidency has been stolen from Bolsonaro.
A Brazilian senator, like President Lula, believes that Bolsonaro has encouraged the rioters in his speeches. He therefore wants Bolsonaro to return from the United States. The former president left for the US just before Lula was sworn in.
Justice has been asked for an arrest warrant if the former president refuses to cooperate voluntarily.
Bolsonaro was hospitalized on Monday with abdominal pain, but according to a source close to the family, his condition is "not worrisome".
---
---