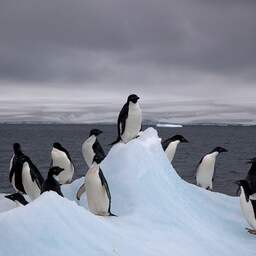 Due to the bad news that usually dominates NU.nl, the good news sometimes snows under. That is why we will list some positive and cheerful messages on Saturday. With this week: the ozone layer is recovering according to plan, a record number of people donated stem cells last year and starlings put on a spectacular show.
In 2021, 247 people in the Netherlands will have donated stem cells to other people. There have never been so many, according to the Dutch center for stem cell donors Matchis. And that is good news, because the increase that started a few years ago continues with this.
There is more good news. Within four decades, the ozone layer will likely have recovered to what it was in 1980, before the ozone hole formed. The recovery is therefore on schedule, says a panel of experts. The recovery of the ozone layer can limit global warming by about 0.3 to 0.5 degrees Celsius.
Researchers at the Royal Netherlands Institute for Under the Sea (NIOZ) have discovered that plastic floating in the oceans can be slowly broken down by UV light from the sun. And that is fantastic news in the fight against the large amount of plastic in our nature.
There was even more good news this week. Among other things, these messages, with big or small news, gave us a smile at the editor:
Are you happy with this Good News overview, or can things be improved? NU.nl would like to hear your opinion via this short one-minute questionnaire. Thank you very much for filling in!
---
---