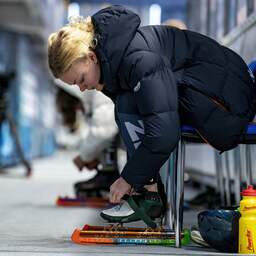 The European Championship short track in Gdansk has started very badly for Xandra Velzeboer. The reigning world champion was immediately disqualified in the 500 meters. This means, among other things, that a long-awaited duel with Suzanne Schulting will not be forthcoming.
Velzeboer was at the start in the first heat of the 500 meters and left too early. The distance was therefore already over for the 22-year-old Dutch, of whom a lot is expected.
Schulting easily reached the next round of the 500 meters as the fastest of her heat. That also applied to Yara van Kerkhof, who was also the best in her series.
Both Velzeboer and Schulting are title candidates on all three individual events. Velzeboer made his breakthrough this season with, among other things, three World Cup victories, while Schulting has been at the top for years and has won the last three European Championships.
In the 1,500 meters, Velzeboer, Schulting and Selma Poutsma qualified for the semi-finals in Poland as the fastest of their heat. Among the men, Friso Emons, Jens van 't Wout and Itzhak de Laat are also semi-finalists at the same distance.
Van 't Wout also easily survived the heats in the 500 meters, just like Melle van 't Wout. Like compatriot Velzeboer, Daan Kos was disqualified and could therefore forget about qualifying for the next round.
In contrast to previous editions, there is no all-round title to be awarded at the European Short Track Speed ​​Skating Championships; that has been deleted. The tournament will run through Sunday.
Sjinkie Knegt is a conspicuous absentee in Gdansk. The experienced Frisian recently drove a dramatic Dutch Championship, where the European Championship tickets were distributed. He still hoped for a point of reference, but did not get it from the KNSB.
---
---