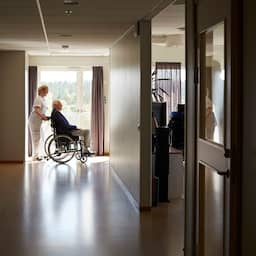 ---
Jan 13, 2023 at 10:31 am
Frail elderly people who live at home longer and longer often end up in the emergency department and hospital as a result of a fall. This requires urgent research. That's what experts say in response to a message in the AD.
According to the Dutch Association for Clinical Geriatrics, urgent research is needed into the consequences of frail elderly living at home for longer and longer. The number of frail elderly people living at home longer and longer has doubled compared to a few years ago, says chairman Esther Cornegé.
"In a large hospital it is now a daily occurrence that someone is brought in who has fallen at home," she says. On January 1, there were five in the department in Den Bosch where she works.
People usually don't just fall. It is caused by, among other things, an infection, a heart attack or errors with medication. They are also not always able to sound the alarm anymore. There would also be more and more neglected patients with dementia in hospitals.
Vulnerable seniors become hypothermic after a fall
Incoming seniors are often hypothermic, usually because they have been lying on the floor for a long time before being helped. Doctors confirm this in a message in the AD.
The fact that they are found later is mainly because there are no longer enough informal carers and home care available. Vulnerable elderly people who need more help because of their illness often receive less home care than they actually need. Cornegé calls the situation "dire".
Beeld: Getty Images
---
Read more about:
CareHospital seniors
---
---
---
---