In addition to our overview of films on TV, we regularly highlight the best film on TV for you, so that choosing a film becomes even easier. Our TV movie tip is Oscar winner tonight The Father (2020).
Anthony (Anthony Hopkins), an ailing 80-year-old Londoner who is gradually becoming demented, feels abandoned when his worried daughter Anne tells him she is moving to Paris. Confused and upset, Anthony begins to lose his grip on reality and struggles to navigate the opaque landscape of past and present.
The Father is directed by Florian Zeller, who recently released the informal sequel The Son (2022) with Hugh Jackman. The drama film with Hopkins won no fewer than two Oscars in 2021, including best actor for Anthony Hopkins.
The Father can be seen on Canvas tonight at 9:30 PM. The film can now also be seen via Pathé Thuis.
Have you seen The Father yet? View the overview of all films on TV. On this page you will find all TV movie tips for this week.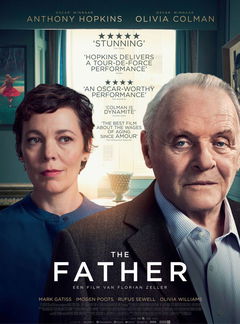 8.2 Look at Pathé Thuis • Anthony is 80 years old. He lives alone in London and refuses the nurses his daughter tries to force on him.
Beeld: Still 'The Father' via TMDb
---