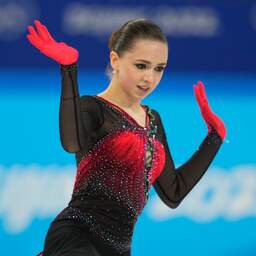 Russia's anti-doping agency RUSADA will not punish figure skater Kamila Valieva for violating doping rules in the run-up to last year's Beijing Olympics. According to RUSADA, there is no "fault or negligence" on the part of the now 16-year-old Russian.
Valieva tested positive for the banned substance trimetazidine in December 2021 at the Russian National Championships. But the result was only announced on February 8, a day after she won the Nations Cup at the Games with the Russian team.
The doping case led to a riot at the Winter Games. Sports tribunal CAS decided in an emergency session that Valieva, pending the investigation, could still participate in the individual tournament. Partly due to a fall, Valieva finished fourth in the individual freestyle.
Until recently, RUSADA did not want to share Valieva's doping test because the skater is a minor. This caused an angry reaction from, among others, the American anti-doping agency USADA, which demanded openness and transparency.
The World Anti-Doping Agency WADA says it is "concerned" about RUSADA's findings. WADA is considering appealing to the CAS.
Valieva claimed that the banned substance trimetazidine entered her system because she drank from her grandfather's glass. Her grandfather had heart problems, according to her lawyers, and trimetazidine is a medicine for heart patients.
Due to the riot around Valieva, the international skating federation ISU decided to increase the minimum age to participate in senior competitions from fifteen to seventeen years.
---
---