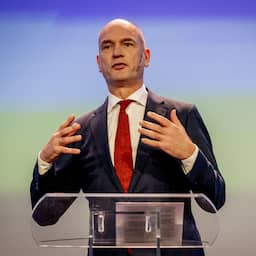 Gert-Jan Segers is stepping down as a Member of Parliament and political leader of the Christian Union. He will hand over the party chairmanship to Mirjam Bikker next Tuesday. A week later, he resigns as a member of parliament.
Segers was then a member of parliament for ten years, seven of which as party leader and political leader. Twice he succeeded in enforcing government participation. That was both times as the smallest party in a coalition with VVD, D66 and CDA.
In a letter to party members, Segers writes that the Kamerwerk has asked a lot of him and his family. "Politics in The Hague is a greedy profession." It's one of the reasons to stop now. "We have always held each other in these ten years, but it is also good for us as a family to put a point now and have more time for each other again."
In addition, Segers finds it "just beneficial" to make room for someone else at a certain point. He says he only stood as a candidate in the previous elections "because I knew there was a capable and driven successor on the list who could take my place."
In addition to party chairman, Bikker will also be the new political leader of the ChristenUnie. The seat that Segers leaves behind goes to Nico Drost. He previously replaced Stieneke van der Graaf during her maternity leave. Eppo Bruins, who was actually above Drost on the electoral list, has decided not to take a seat in the House.
The new party leader is "incredibly grateful" to her predecessor for the cooperation. "It is a privilege to work with him and we will miss him."
Party chairman Ankie van Tatenhove says he will miss Segers' "drive, involvement and individuality". "At the same time I am happy that we have a successor ready with Mirjam who is skilled, knows what she stands for and goes for what she believes in."
"It was an extraordinary privilege to work closely with him in the Chamber, during formations and during cabinet periods," Deputy Prime Minister Carola Schouten responds to Segers' departure. "After his departure from The Hague, a dear friendship remains. I wish him a lot of inspiration in what comes his way now."
---
---