The beloved American bestselling novel Are You There God? It's Me, Margaret is coming to the silver screen. The 1970 novel written by Judy Blume has been made into a film by Lionsgate and the first trailer for Are You There God? It's Me, Margaret (2023) can now be seen.
Teen problems
When Margaret is 11, she moves to a new city with her parents and begins to consider everything about life, friendship and growing up. She faces the perils of being a teenage girl, such as bras, menstruation and boys. She relies on her mother, who offers her loving support but also has to find her feet in a new place. In turn, Margaret tries to find happiness with her grandmother in the new phase of her life, after her loved ones move away. For all three, questions about identity and the meaning of life will bring them closer than ever before.
Three generations of actresses
The coming-of-age movie is written and directed by Kelly Fremon Craig who also The Edge of Seventeen (2016) made. 11-year-old Margaret is played by Abby Ryder Fortson, who previously played Scott Lang's daughter in Ant-Man (2015) in Ant-Man and the Wasp (2018). Abby shares the silver screen with Rachel McAdams as her mother Barbara, and Oscar winner Kathy Bates as her grandmother Sylvia.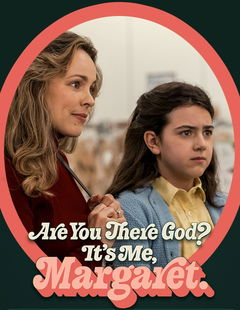 Are You There God? It's Me, Margaret (2023)
Eleven-year-old Margaret moves with her family from New York City to the New Jersey suburbs. Because one of her parents is Christian and the other is Jewish, she searches for her religious identity.
Are You There God? It's Me, Margaret will hit theaters April 28.
Beeld: Still 'Are You There God? It's Me, Margaret' by Dana Hawley/Lionsgate via TMDb
---