By Jeroen van der Zanden
---
Jan 12, 2023 at 5:54 PM
It was the intention on Thursday that Antonio Plazibat would be announced as the upcoming opponent of Rico Verhoeven, but the press moment in Utrecht was mainly about the serious knee injury that the world champion sustained this week. Verhoeven has a long recovery ahead of him, but is hopeful.
Verhoeven was warming up for a training session as usual on Wednesday, when things suddenly went wrong. Initially, the heavyweight did not even realize that it was really wrong.
"I was shadow boxing and took a step aside, putting my foot down and twisting my knee. I have no idea how that was possible," said Verhoeven, who did not want to say what the exact damage to his knee is.
"I felt it wasn't good, but I'm not one to adjust and continued. But I was really in pain. Stabbing pain. Shortly afterwards my knee blew up completely."
'This may cause frustration'
An MRI scan and a visit to a specialist immediately followed. The result: a "deeply disappointing" result. Verhoeven will have surgery on Tuesday and awaits a recovery of six to nine months. He had never been so badly injured.
Verhoeven thinks the recovery is "no problem", but is curious about the coming period. "I have always been able to stay at a good level. Soon I will only be able to tax my body at a certain percentage," he said.
"That may cause some frustration. But there are plenty of opportunities to stay as fit as possible. When possible, we run back to the ring."
'There is no one else but Plazibat'
Verhoeven's characteristic sprint to the ring is expected to follow in September or October, with Plazibat being his opponent. The Croatian is the highest placed heavyweight in the GLORY ranking behind Verhoeven and has been making a big impression for a long time.
"He deserves this fight, but there is no one else. Everyone wants it, but not everyone deserves it," Verhoeven said of the lack of competition at the top of heavyweight.
The Dutchman could enjoy the fact that Plazibat has often openly asked for a mutual fight in recent times. The Croat filled his Instagram page with it, among other things. "It's an honor when someone dedicates their Instagram page to you like this," Verhoeven said with a laugh. "He says he's a big fan of mine and I'm his best friend. Hopefully we'll still be friends after the fight."
Jan 12, 2023 at 2:40 PM
Verhoeven has to postpone title fight with challenger Plazibat due to injury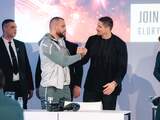 Nov 21, 2022 at 11:41 am
Banned substance discovered on kickboxer Overeem after fight against Badr Hari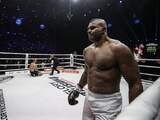 Image: GLORY
---
Read more about:
KickboksenRico VerhoevenGLORY
---
---
---
---