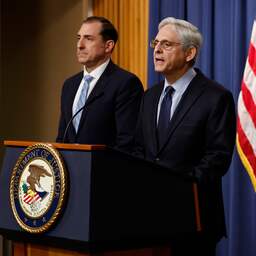 The US Department of Justice has appointed a special counsel to investigate the discovery of confidential documents at President Joe Biden's home. The research may cast a shadow over the Democrat's electoral chances in 2024.
Biden's associates have found multiple classified documents, including at his home in the state of Delaware. The White House confirms this after American media had already reported on the find on Wednesday. Another Biden home – in Rehoboth Beach, also in Delaware – was also searched but no classified documents were found there.
It was already announced on Monday that secret documents belonging to Biden were found in his private office at a think tank in Washington last November. The second batch of classified documents also dates from his time as vice president, according to the White House.
Attorney General Merrick Garland, like Biden, is a Democrat. To remove the appearance of partiality in this matter, he has appointed Robert Hur as special counsel. Hur is a former attorney who worked at the Department of Justice during Donald Trump's presidency (2017-2021). Earlier Thursday, Trump had called for the appointment of a special counsel who "hate Biden as much as Jack Smith (counsel investigating Trump's handling of classified documents) hates me."
The 80-year-old Biden is expected to formally launch a re-election campaign in the coming months. The revelations about the documents have already caused him political concerns.
This message will be added…
---
---