Netflix has shared the trailer of a new mysterious fantasy series, which will soon be released on the streaming service. In Turkish Sahmaran (2023), a young woman becomes entangled in the web of an unusual community, waiting for the fulfillment of an ancient prophecy.
Ancient legend
Şahsu is a teacher and travels to the city of Adana for her work. Her grandfather also lives in Adana, who left her mother behind years ago. Once on the scene, Şahsu alone soon finds herself involved with Mar, a mysterious society that believes in the legend of Shahmaran – and that promises no good. With the arrival of Şahsu, the fulfillment of an important prophecy seems near, and nothing will be the same for the teacher from now on…
Tension and symbolism
The lone leading role in the above trailer, which is full of romance, tension and symbolism, is reserved for Serenay Sarikaya. Also Burak Deniz (from the Netflix movie Kal (2022)) will be featured in the series. The serial creator is Umar Turagay.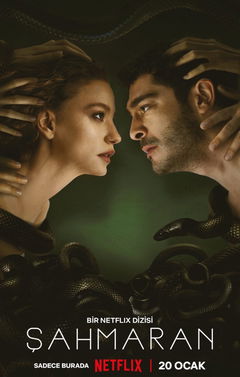 Watch on Netflix • Şahsu goes to Adana as a teacher and is determined to confront her grandfather, who left her mother behind years ago.
New on Netflix
Sahmaran is on January 20 to be seen on Netflix. If you want to know what else is coming this month, you can check this overview.
Image: Still 'Sahmaran' via Netflix
---