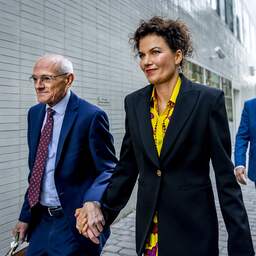 Former Centric CEO Gerard Sanderink married Rian van Rijbroek last week, a self-proclaimed cyber expert that connoisseurs have their doubts about. The AD reports this on Thursday.
The 74-year-old Sanderink was discredited two months ago because he had to stop immediately as a director of the IT company Centric. The unrest at Centric was caused, among other things, by the friendship between Sanderink and 53-year-old Van Rijbroek.
Sanderink and Van Rijbroek got married on Monday, January 2 in the municipality of Meierijstad, where they live together. According to the AD, the family of the couple found out through the press that they are married. This is Sanderink's first marriage. Van Rijbroek was already married once.
Sanderink has been frequently in the news in recent years. For example, he had a fight with his former lover Brigitte van Egten. He put her aside after becoming friends with Van Rijbroek. He managed Sanderink's mail accounts and interfered in important contracts of his IT company.
Since Van Rijbroek has been in Sanderink's life, he has been fighting a legal battle with Van Egten. In this he was proved wrong time and time again, but several times he flouted judgments. In September it was announced that Sanderink and former board members of his construction company Strukton are suspected of bribery in Saudi Arabia.
Peter Wakkie, Centric's interim director, says the marriage will not affect the IT company.
---
---