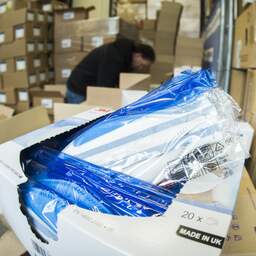 A company from Heerhugowaard must repay the Dutch State 43 million euros because it supplied mouth caps that were of poor quality. The court in North Holland determined this at the end of last year, the AD writes.
In March 2020, the State bought eighteen million face masks from O2 Health. The State needed a lot of face masks very quickly.
The State would pay more than 56 million euros for the protective equipment, according to the court's verdict. Of that money, the State paid 45 million euros before the face masks were delivered.
In the following months, face masks were indeed delivered to the State, but it turned out that there were far fewer than agreed. In addition, the State inspectors discovered that a large part of the protective equipment did not meet the quality requirements.
After the State and 02 Health had tried to solve the problems together for a few months, the State decided to dissolve the agreements with the company in May 2021. The State wanted the company to repay a large part of the advance paid (43 million euros).
The case came to court at the end of 2022. O2 Health did not want to refund the money because the agreement was to deliver as many mouth masks as possible quickly. And that's what the company did. According to O2 Health, the face masks also generally met the quality requirements and the government's inspection was "not careful". According to the company, the State was therefore not allowed to dissolve the agreements.
But the court agrees with the State and rules that the company must repay the 43 million euros. According to the AD, there is a good chance that the company will go bankrupt. O2 Health itself did not want to comment yet because it is likely to appeal.
The ministry says in a response to the newspaper that it will take "appropriate action" to get the money back.
---
---