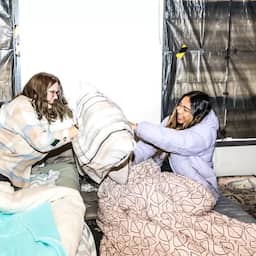 Young people need to become more aware of self-reliance after a climate disaster. That is why two students lock themselves up in the Tolhuistuin for five days. No electricity, but Monopoly. And a live stream. "This is more accessible than a thick book."
This article comes from Het Parool. Every day a selection of the best articles from the newspapers and magazines appears on NU.nl. You can read more about that here.
The Garden House, at the very back of the garden of the Tolhuistuin, is normally a place for fun, celebrations and parties. There are no lights on this Tuesday and it is quite chilly in the wooden shack. All windows are also completely covered with black garbage bags.
"We pretend to be in the attic," says Christiene Olyerhoek (21).
"It also gives more privacy," says Layee Ai Mon Hongsa (22).
The two study Leisure & Events Management at Inholland University of Applied Sciences in Diemen and three fellow students have designed a concept to better promote self-reliance among young people and young adults after a climate disaster.
Because what if the city floods and you can't leave your house? It may take up to five days for emergency services to arrive. How can you survive until then?
Livestream op Instagram
To find out, Olyerhoek and Mon Hongsa are going to lock themselves up for five days and give an update every day at 1 pm during a live stream. Olyerhoek: "It's a simple way to draw attention to a highly charged subject." Mon Hongsa: "It's more accessible than reading a thick book about it."
The three fellow students take care of the social media and the live stream on Instagram, @5dagenzelfredzaam. They are also on standby if Olyerhoek and Mon Hongsa become too much. Olyerhoek: "A psychologist is available for aftercare, you never know."
For starters, the cold will be a thing for the next few days. The draughty shack is already cold and damp during the day. There is no heating, electricity, light or running water. That's why they have a lot of candles and extra sweaters. There is also no toilet inside. Before that, they are allowed to leave the garden house to a toilet block further down the garden. But showering is not included.
Emergency package
In a corner of the garden house are two inflatable beds and a lot of blankets. In another corner are two chairs and a table with an electric stove on top. They are allowed to use electricity for that, and also for charging their phones. Mon Hongsa: "We have a few wild cards."
Their emergency kit is displayed on the floor. A lot of bottled water, soup, noodles, nutrition bars and portions of freeze-dried food. "We need that boiling water for that. For example, we have salmon with pasta or scrambled eggs. I wonder if it will taste good."
Mon Hongsa: "We have dessert for one day. That's our cheat day."
Phone is prohibited, only during the live stream, so there are games with it, drawing and painting stuff and puzzles. Olyerhoek is going to teach Mon Hongsa how to play chess.
'It's getting worse every day'
Every day there is a new challenge. Only the three fellow students know which exactly, but think about: food on a ration, less space in the garden house after a leak. The challenge appears on Instagram every morning, Olyerhoek and Mon Hongsa receive the announcement on a note that is slipped under the door. Olyerhoek: "So it's actually getting worse for us every day."
They can leave on Saturday. The project will be concluded that day at 3 pm with an interactive talk show in the Tolhuistuin, which will be provided by other students, with tips on self-reliance.
Then the door has to be closed really slowly. Olyerhoek: "I see it as an experiment that may also fail. Suppose we go completely crazy or become hypothermic. But we are looking forward to it."
The two sit on the bed, jackets still on, and start a pillow fight – always a good start to a natural disaster.
---
---