---
Jan 11, 2023 at 12:08 Update: 36 minutes ago
Justin Bieber should finally have been on stage again in the Netherlands after seven years. But last October, the singer abruptly stopped his world tour because he suffers from Ramsay-Hunt syndrome. How is Bieber doing now and when can disappointed fans still admire him in the Ziggo Dome?
Bieber should have put on a show for his most loyal fans not only tonight, but also on January 13 and 14. The three performances had to be moved a few times due to the corona pandemic, but finally seemed to take place in 2022. Until Bieber decided to call it quits after 49 concerts – halfway through his tour.
The singer then announced that he was suffering from physical and mental problems due to Ramsay-Hunt syndrome. In this condition, the seventh cranial nerve has become inflamed due to an infection. "I can't smile with this side of my face and I can't move this nostril, so it's complete paralysis on this side of my face," he said in an Instagram video showing off his partially paralyzed face.
The singer said that the complaints will go away on their own, but that he needs rest and is therefore canceling a few shows. "We don't know how long it will take, but it will be fine."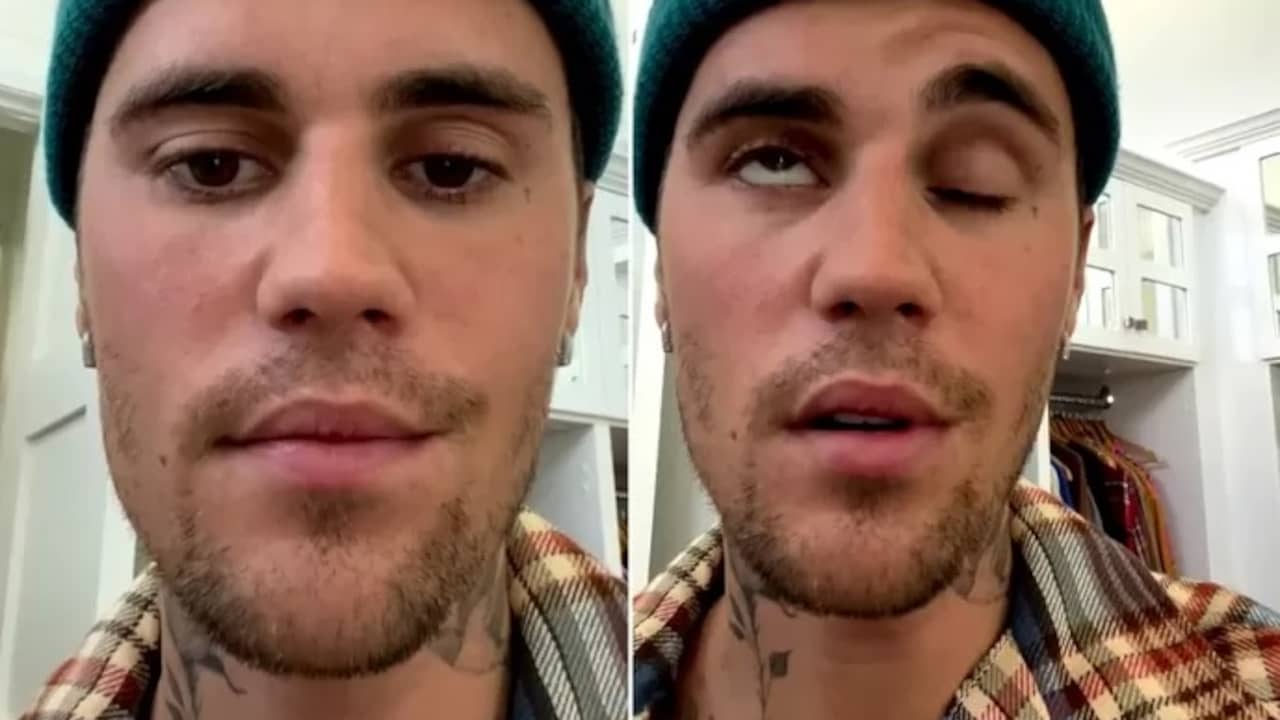 1:21 Play button
Postpone first, cancel later
What started with the postponement of a few concerts ended in the cancellation of his entire world tour. Until March 25, 2023, Bieber should have traveled the world with this tour. All tickets sold for the concert in the Ziggo Dome remain valid. Fans can wait for the new date for the concert or request a refund. But a new date has not yet been set.
It is not the first time that the singer has had problems with his health. In 2020 he announced that he was suffering from Lyme disease and mononucleosis. His skin, brain, functioning and overall physical suffered, he said. The singer says he received good treatment, but his body did take a big hit.
Bieber's mental health has also had to endure a lot. In 2017, Bieber had to interrupt his Purpose Tour early because he was exhausted. During this tour, the artist received a lot of criticism. According to fans, it showed that he was not able to give everything. For example, he mimicked a large part of his shows and clearly rushed his dance routines. The singer then performed in the GelreDome in Arnhem.
When will the singer pick up the thread again?
Although the singer looks better in photos than a few months ago and is certainly not at home with the suits, little is known about his return. Bieber seems to be taking it easy on all fronts and hasn't been active on Instagram for about five weeks.
He did, however, share images of a holiday in Tokyo, where he celebrated his wife Hailey's 26th birthday. He was also seen at the end of December during a skiing holiday in Aspen. For the time being his health clearly comes first, touring will come later.
Justin Bieber with wife Hailey in Japan. Photo: Justin Bieber Instagram
Beeld: Getty Images
---
Read more about:
Justin BieberMusicMedia and Culture
---
---
---
---