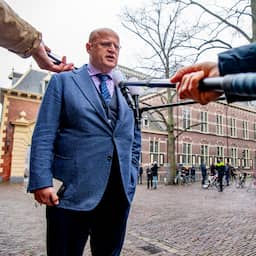 The former Minister of Justice and Security Ferd Grapperhaus is under extra heavy security because of a "serious threat" from organized crime. The Amsterdam Public Prosecution Service confirms this to NU.nl after reporting by Het Parool.
The OM would have been tipped off about the threat from the underworld. "We take those threats very seriously. The situation has been going on for several weeks," says a spokesperson. Since then, Grapperhaus has been protected by the Royal and Diplomatic Security Service.
The Public Prosecution Service does not say from which corner of organized crime the threats come. The spokesman also does not want to say whether further measures have been taken.
Het Parool writes that the tipster points the accusing finger at the fugitive cocaine dealer Jos Leijdekkers. He would be behind the threat. Leijdekkers has been on the National Investigation List since mid-2022.
The police also suspect that Leijdekkers is involved in the disappearance of Naima Jillal. She disappeared without a trace in October 2019. Since then, only photos have surfaced in the criminal environment in which a woman, presumably Jillal, is being tortured. Criminals are said to have cut off a toe and finger, among other things. The police therefore take into account that the woman has died.
A reward of 75,000 euros has been offered for the tip that leads to the arrest of Leijdekkers.
---
---