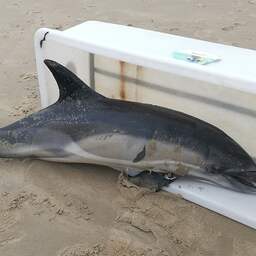 A common dolphin washed up on the beach of Texel on Tuesday. The animal was dead and was found by a zookeeper from Ecomare, an aquarium and seal sanctuary on the Wadden Island.
The common dolphin is not normally found along the Dutch coast. Ecomare speaks of a "special find". The sanctuary says that common dolphins usually live in deeper water and therefore don't often show up off the coast.
Since 2000, a total of fourteen common dolphins have washed ashore in the Netherlands. It is the first on Texel since 1981.
The dolphin is 1.80 meters long. The animal will be taken to Utrecht University for further research.
Ecomare reports that this is not the dolphin that was seen at Hoek van Holland last weekend. That was a striped dolphin, a different species from the common dolphin. Whether the striped dolphin is still alive is not known.
---
---