---
Jan 10, 2023 at 10:55 PMUpdate: 3 minutes ago
PSV qualified for the eighth finals of the TOTO KNVB Cup on Tuesday. The team from Eindhoven won 1-2 on a visit to Sparta and thus recovered after a disappointing Eredivisie weekend.
The cup victory in Rotterdam is a boost for PSV. The team of coach Ruud van Nistelrooij also met Sparta in the Eredivisie on Saturday and then got stuck at home with a disappointing 0-0 draw.
PSV also had some trouble with coach Maurice Steijn's team at Het Kasteel. Xavi Simons opened the score after more than half an hour and Noni Madueke doubled the lead just before the break. In the second half, Arno Verschueren brought back the tension, but after that no more goals were scored.
PSV will hear on Saturday who the opponent is in the eighth finals. It is a so-called 'free draw', so Ajax or Feyenoord could come out, provided these clubs manage to win their duels in the second round in the coming days.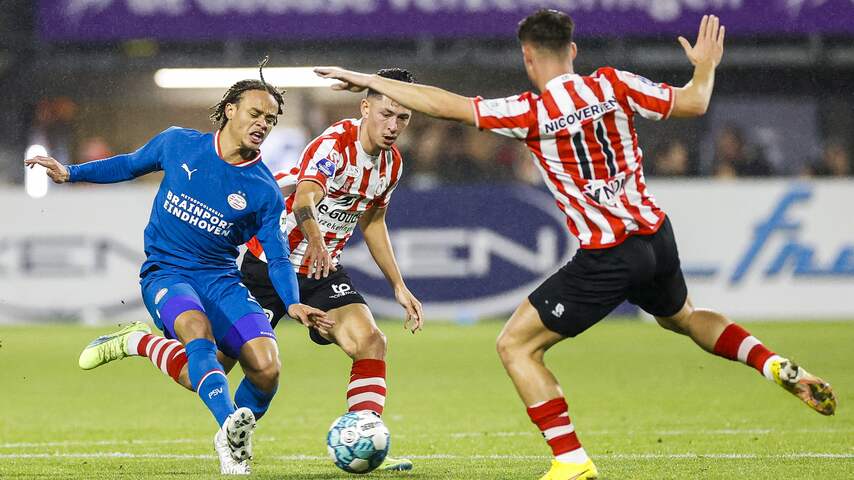 Xavi Simons broke the spell for PSV. Photo: ANP
Three changes in PSV base
Van Nistelrooij had changed his team in three places compared to the home game against Sparta three days earlier. Goalkeeper Walter Benítez, defender Armando Obispo and midfielder Joey Veerman sat on the bench. Their spots were filled by Joël Drommel, André Ramalho and Érick Gutiérrez respectively.
There was little to do in the early stages of the game. PSV only got up to speed after more than half an hour and immediately expressed that in a goal. Via Ibrahim Sangaré and Luuk de Jong, the ball reached Gutiérrez, who served Simons. The single international finished flawlessly.
Just before half time Madueke signed for the 0-2. The English attacker, who is emphatically in the interest of Chelsea, shot in through defender Bart Vriends.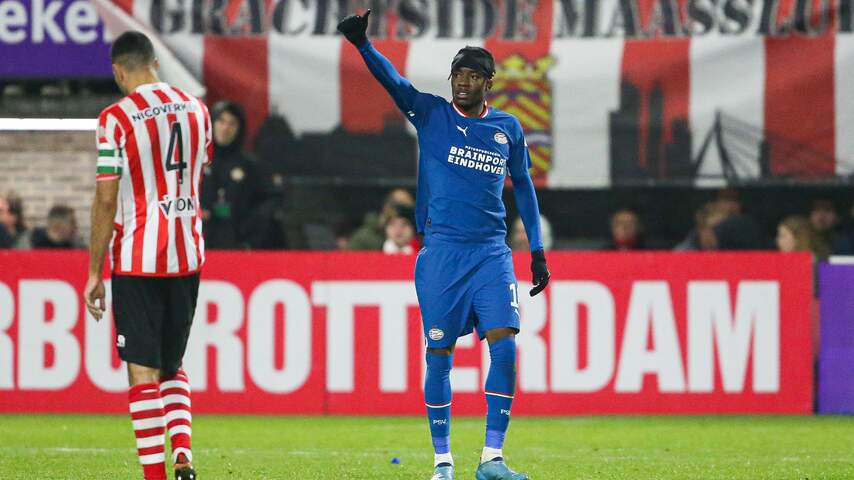 Noni Madueke shot in through Bart Vriends to make it 0-2. Photo: Pro Shots
Sparta brings tension back
In the second half, Sparta fought back into the game. Verschueren made the connection goal on behalf of the team from Rotterdam, who are surprisingly sixth in the Eredivisie. Goalkeeper Drommel, who is preferred to Benítez in the cup tournament, was not unpunished.
PSV held on in the lively final phase. Simons had the opportunity to close the game, but saw his water-fast solo stranded by goalkeeper Nick Olij. In the final phase, Tobias Lauritsen got the chance to equalize Sparta. Goalkeeper Drommel tapped his bet out of the corner and thus took revenge for his mistake.
In the next two days, eleven more matches will be played in the cup tournament. Ajax will visit FC Den Bosch on Wednesday, Feyenoord will receive PEC Zwolle on Thursday.
Image: ANP
---
Read more about:
PSVKNVB CupSpartaVoetbal
---
---
---
---