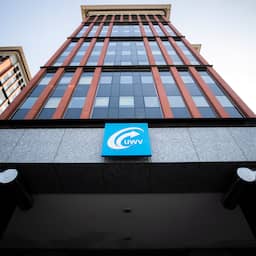 The Limburg Public Prosecution Service is opening a criminal investigation into racist slogans projected on December 28 on the UWV building in Venlo. A spokesperson on behalf of OM Limburg informs NU.nl about this.
"We think the lyrics border on discrimination," the spokesperson explains. The projection has been claimed by far-right groups.
The OM Limburg expects to cooperate with the OM Rotterdam in the investigation. Since last week, this has been conducting criminal investigations into racist texts projected on the Erasmus Bridge in the Maasstad during the turn of the year.
The racist slogans in Limburg could be seen on the UWV building on the Prinsessesingel in Venlo. The OM Limburg suspects that there is a connection with the projected texts that were shown a few days later in Rotterdam.
The decision of the OM Limburg is striking, because the mayor of Venlo decided a day earlier not to file a report against the racist slogans on the UWV building. Together with the UWV, he thought it was sufficient for the Rotterdam Public Prosecution Service to conduct an investigation. Their declaration would have no added value.
But the OM Limburg thinks that the racist texts "cannot" and decided to start an investigation itself. It is more common for the judiciary to only open an investigation after a report has been made.
The Limburg Anti-Discrimination Facility (ADV) consulted with OM Limburg prior to the decision, ADV Limburg director Chris Baltween told this site. He is happy with the action of OM Limburg: "It is a good signal that they are taking this seriously."
The UWV repeats that it finds the projected racist texts "reprehensible". A spokesperson says that the body is cooperating with the OM Limburg investigation.
---
---