In 2009, 16-year-old Jessica Watson decides to make history by sailing alone around the world as the youngest person ever. The 210-day journey was not without struggles and will be shown on Netflix next month in the film True Spirit (2023). The streaming service has shared the first trailer.
Dangers at sea
The trailer shows how Jessica Watson braves the ocean on her own on a small boat. Huge waves and gray skies make it a dangerous adventure for the brave teenager who, despite being alone on her boat, is fortunately supported by her family and friends back home. The trailer highlights Watson's bravery as well as the dangers she faces at sea, including her dyslexia when reading a map.
Cast
True Spirit is directed by Sarah Spillane from a screenplay she co-wrote with Rebecca Banner and Cathy Randall. The brave Jessica Watson is played by Titans (2018– ) actrice Teagan Corft. Cliff Curtis (Avatar: The Way of Water (2022)) Watson plays her sailing coach Ben Bryant. Josh Lawson (Mortal Kombat (2021)) and Academy Award winner Anna Paquin (The Piano (1993)) stars Jessica Watson's parents in this incredible true story of perseverance.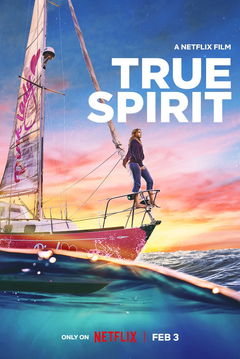 Watch on Netflix • The story of Australian teenager Jessica Watson, the youngest person ever to sail solo, non-stop around the world.
Next month on Netflix
True Spirit is on February 3 to be seen on Netflix. For a complete overview of all new films and series that will soon appear on the streaming service, please visit our Coming soon to Netflix page.
Image: © 2023 Netflix, Inc.
Text: Netflix
---