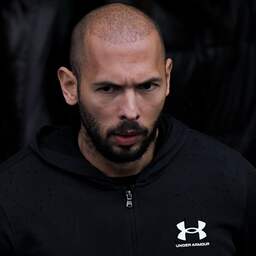 Influencer and former kickboxer Andrew Tate remains detained in Romania for the time being. Tate lost his appeal Tuesday to be released. The controversial American Briton was arrested at the end of December on suspicion of human trafficking and rape, among other things.
After his arrest on December 29, the court in Romania decided that Tate should be detained for at least thirty days. Romanian authorities feared that Tate would leave the country in an attempt to avoid punishment. His attempt to have his detention overturned through an appeal has therefore now failed. The 36-year-old influencer denies all allegations.
Tate's brother Tristan and two Romanians have also been arrested in the case. Prosecutors believe they are behind a criminal organization "with the aim of recruiting, harboring and exploiting women by forcing them to produce pornographic material that can be viewed online for a fee". The Tate brothers would have made a lot of money from it.
The criminal investigation has been ongoing since the beginning of this year. Prosecutors have identified at least six women who were allegedly sexually exploited by the suspects.
Tate has been infamous for its controversial statements for years. He was discredited in 2016 when he was kicked out of the British version of the television program Big Brother because he was filmed attacking a woman. He gained a lot of fame online because of that action.
In addition, the former kickboxer has been discredited in the past because of hateful comments towards women. He was banned from social media platforms like Twitter, YouTube, Facebook, Instagram and TikTok. His Twitter account has now been restored with the arrival of the new owner Elon Musk.
---
---