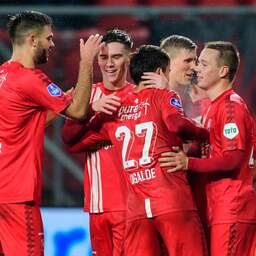 FC Twente and ADO Den Haag qualified for the eighth finals of the TOTO KNVB Cup on Tuesday. The Tukkers beat Telstar 3-1 and the Hagenaars won 1-3 at Cossack Boys.
Daan Rots scored the first two goals for Twente. Seven minutes before the break, the attacker opened the score on a pass from Sem Steijn. Five minutes later, Rots tapped in the 2-0 after a header from Manfred Ugalde hit the post.
Virgil Misidjan extended the lead halfway through the second half and Ugalde was again the principal. Shortly afterwards, Thomas Oude Kotte did something in return on behalf of Telstar, but it was no longer exciting in De Grolsch Veste.
Wout Brama and Christos Tzolis made their comeback at Twente after three months of injury. The pair came on the field less than fifteen minutes before time.
ADO Den Haag had a much more difficult time in Werkendam with the amateurs of Cossack Boys. Xander Severina opened the score after half an hour with a shot in the far corner. A few minutes later, Cossack Boys got a penalty, but Leon Hutton shot over from 11 meters.
Twenty minutes before the end, Severina doubled the margin for ADO. This time the midfielder found the goal after a nice action by Amir Absalem.
Ten minutes before the end, former Feyenoord player Kaj Ramsteijn brought back the tension. Cossack Boys ended the game with ten men due to a red card for Daniel Mendes da Silva in the final phase. Deep in injury time, Joël Zwarts decided the match.
De Graafschap also qualified for the eighth finals. The team from Doetinchem won 1-4 at the amateurs of HV & CV Quick. Siem de Jong, Robin Schouten, Basar Önal and Philip Brittijn scored for the visitors and Lennaert Massar saved the honor on behalf of the home team.
---
---