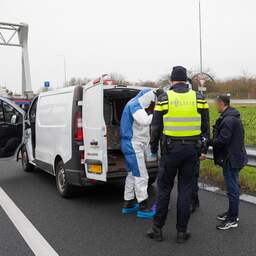 The police arrested three people on Tuesday morning in connection with the kidnapping of a fifteen-year-old boy in Amsterdam. The three were arrested shortly afterwards on the A27. The police fired warning shots when they were arrested. The boy is unharmed.
The police received a report about the kidnapping around 8.40 am. A fifteen-year-old boy was pulled into a white van on the Tweede Jan Steenstraat in Amsterdam by several people.
Police were able to trace the van through an on-site investigation. The vehicle was found on the A27 near Groenekan and three suspects were arrested.
The police applied the so-called 'talk-out procedure'. This means that the police gave the suspects step-by-step instructions to get out. This was necessary because they may have been carrying firearms. Since the suspects did not listen, the police had to use warning shots.
In the end, the fifteen-year-old boy was removed from the van unharmed. The three suspects are a 36-year-old man from Weesp, a 35-year-old man from Amsterdam and a 29-year-old man from Almere. The suspects are in full restrictions and are only allowed contact with their lawyer. The detective is investigating the case.
As a result of the arrest, the A27 near Bilthoven in the direction of Utrecht was completely closed for some time on Tuesday morning.
---
---