---
09 Jan 2023 at 14:27
The new electric Turkish car brand TOGG opened a factory at the end of last year. A mid-sized SUV should be a success in the Turkish market this year. The brand wants to launch a compact SUV in the Netherlands around 2025, says CEO Gürcan Karakas in conversation with NU.nl. But first TOGG wants to achieve success in Turkey. "If we don't score on the home market, we have no business abroad".
Electric driving is still in its infancy in Turkey. Electric cars are expensive and there are few (fast) chargers left in the country that is nineteen times the size of the Netherlands. According to Karakas, being successful in Turkey means first of all setting up an organization, seeking cooperation with service partners and selling 20,000 copies, the production volume planned for 2023.
There is no lack of interest, claims Karakas. There would be more people interested in an SUV than cars rolling off the line this year. TOGG is therefore going to try out a new way of ordering. Interested parties can play for a higher place on the waiting list via a game.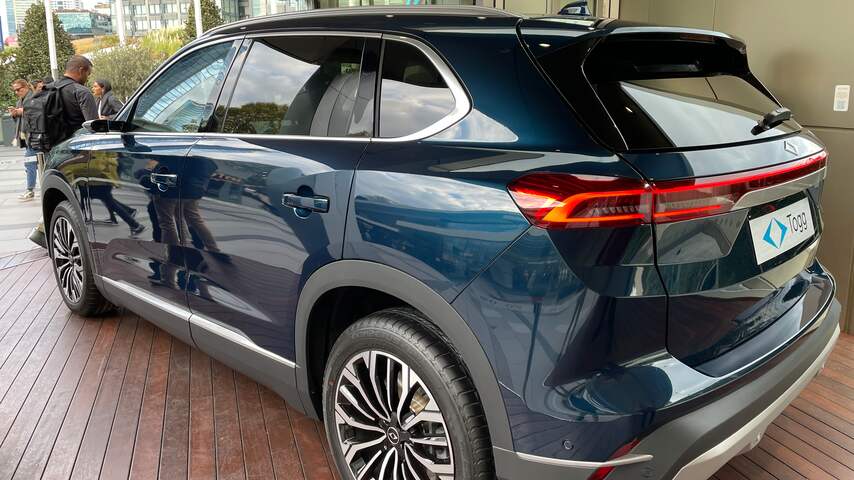 The TOGG has a fairly conventional design. Photo: NU.nl
'Electric competition is already cutthroat in Norway'
In the meantime, TOGG is probably looking beyond national borders. In any case, the brand wants to become active in the Netherlands, Sweden and Norway. Although Karakas sees that competition in Norway is fierce because electric driving is the norm there. To better understand the customers in the new markets, TOGG has opened a market research office in Stuttgart. At the beginning of 2025, the Turkish brand wants to take its first steps in the Netherlands and the Scandinavian countries.
To that end, TOGG's production planning has also been overhauled. A compact electric SUV in the size of Opel Mokka or Peugeot e-2008 was planned, but not before 2026. "We brought that model forward for our expansion into the European market," says Karakas.
TOGG kicks off in Turkey with an SUV in the so-called C-segment. Depending on the version, that car will have 200 or 400 hp, a driving range of 300 or 500 kilometers and two or four-wheel drive. This is followed by a sedan, "because Turkey is still a real sedan country". According to Karakas, the so-called four-door coupé version of that model will be a bit higher on its legs for Europe for a "crossover look".
'Other brands can come to us for battery cells'
In the last two years, the automotive industry has mainly focused on longer delivery times. Electric car manufacturers have an additional challenge because they need to have enough battery cells for the battery packs. According to Karakas, TOGG has therefore focused on doing as much as possible in-house from day one.
For the battery cells and battery packs, the Turks are working together with the Chinese Farasis Energy. That company, in turn, is a partner of Mercedes-Benz. Karakas: "In our plan for this decade, we aim for a production capacity that is four times higher than we need ourselves. This means that other car manufacturers can also come to us for battery cells in the long term."
'Smart device, not a car'
Karakas invariably speaks of a smart device instead of a car. According to him, this is not without reason. "We developed our product with consumer electronics glasses. For example, we will use special Qualcomm chips, we will have an operating system that is open to app developers and we will be able to keep the car up-to-date with over-the-air updates ( OTA). An intelligent algorithm will then be able to recognize the driver's preferences, so that the vehicle can be configured and reacted according to taste."
According to Karakas, a TOGG should therefore be more than a vehicle in which you move from A to B. "Things you do at the office or at home, you should also be able to do in the car. Those worlds will merge in the vehicle".
Unfortunately, this content cannot be displayed. We do not have permission for the necessary cookies. Accept the cookies to view this content.
Change cookie settings
Image: NU.nl
---
Read more about:
Electric carsEconomyCars
---
---
---
---