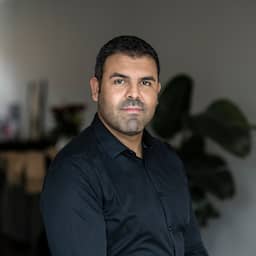 Next year, FNV vice-chairman Zakaria Boufangacha will be the man who should ease the inflation pain with a wage wave. He will do so with 'a pat and a slap', his tried and tested negotiation strategy.
This article is from the Volkskrant. Every day a selection of the best articles from the newspapers and magazines appears on NU.nl. You can read more about that here.
If anyone knows how work, or rather not having it, can intervene in life, it is FNV vice-chairman Zakaria Boufangacha (40). He was in his early twenties when his father came home from the local Henkel soap factory to announce that he had been laid off. For 35 years, the Moroccan guest worker had packed Persil washing powder in boxes. For 35 years he had seen humans replaced by machines. Until he was finally fired himself.
It greatly affected the father of the six-member family. He turned inward. Drank his coffee in the morning, and then often stared at his garden from his chair for the rest of the day. It also had a major influence on the career of his youngest member Zakaria. Had he ever dreamed of becoming a criminal lawyer, now he wanted to use his law school to stand up for blue-collar workers like his father. All five million workers are covered by a collective labor agreement.
As vice-chairman of the country's largest trade union, Boufangacha coordinates the collective labor agreement negotiations concluded by FNV directors in various industries and companies. This makes him the man who will try to take away the inflation pain of the working Netherlands next year. There is no question that he will make it difficult for employers. Earlier he presented a central wage demand of 14.3 percent.
'Firm Negotiator'
"The circumstances will determine how much room for negotiation there will be next year," says former chair of the Social and Economic Council (SER) Mariëtte Hamer. "But it will not be because of Zakaria's negotiating technique." Under Hamer's presidency, employers and trade unions spent months discussing a social agreement that was supposed to curb the proliferation of flexible work. Boufangacha showed himself to be a 'firm negotiator', less focused on compromise than chairman Tuur Elzinga.
He entered the negotiation with a list of points he insisted on winning, Hamer recalls, such as equal rights for temporary workers. "Some thought he was too harsh in that, if he asked for something that the other had already said three times he couldn't give, he just asked a fourth time." Also typical of the trade unionist: he always kept something up his sleeve. "There have been times when there was an atmosphere of 'we are here' at the table, and I looked at Zakaria and saw: we are not there yet."
It is a tactic that the director of employers' association AWVN, Raymond Puts, recognizes all too well. "You can always have a good and constructive conversation with Zakaria for a long time," he says. "But if you want to work towards an outcome, he becomes more persistent and suddenly puts something new on the table." Within our own ranks, that style is also called 'the pat and the slap'. Former FNV executive Annetje Koreman: "Zakaria always shows a lot of understanding in the beginning, then he demands a lot of understanding, and then it starts to drag in."
Skillful talker
Boufangacha has always been a skilful talker, says his childhood friend Geoffrey Meye. That came in handy in the working-class neighborhood in Nieuwegein, where they grew up. For example, when they played football in the square and were harassed by the older boys from the neighborhood. "Zakaria was always the first to open his mouth and knew exactly what to say to calm things down," said Meye.
He undoubtedly inherited that quality from his father. A 'gifted' man who chose his own path and, according to Boufangacha's eldest sister Kaltoum, urged his three daughters and son to do the same. For example, Boufangacha senior was on the employee participation council of the factory and he approached the school director when Kaltoum was advised domestic science school. "In the end I could still go to the HAVO. At Zakaria such a conversation was no longer necessary, the school knew our family by now."
Boufangacha was also a good student. This was also noticeable when he started working as a legal consultant at FNV after graduating from law school. Less than a year later, he became a director at FNV Luchtvaart. There he quickly mastered the material, recalls Koreman. In no time he too was talking about ca's (cabin attendants) and pa's (purser assistants) as if he had never done anything else. He even managed to do the unthinkable: a strike by KLM's 'blue family'.
New old boy
Boufangacha also put himself in the spotlight with his activist performance. It led to his election to the board of FNV in 2017. In that role, he has since campaigned not only for higher wages, but also for less flexible work and more diversity. In addition to a quota for women at the top of business, he also campaigned within the SER for more cultural diversity in the workplace. As a result, companies now have to account for this annually.
The question is what the next step is for the versatile new 'old boy' from the polder network. The FNV presidency, politics? Sister Kaltoum thinks that he still sees enough challenge in unleashing that long-awaited wage wave for the time being. He also wants to spend time with his family. Because Boufangacha may know better than anyone how important work is in life, he also knows that it is not everything.
3x Boufangacha
In an interview with FD last year, Boufangacha spoke candidly about the 'white man culture atmosphere' in the Dutch polder. In his early years, even within his own FNV, he had to deal with stereotyped jokes. Also from the board. Like, "Should I watch my bag?"
Boufangacha is married. He and his wife Sonja have three children from 5, 8 and 10
None of his (work) relations need to think long about a bad characteristic of Boufangacha: he will come always late. Regardless of whether he is meeting a minister or his childhood friends.
---
---