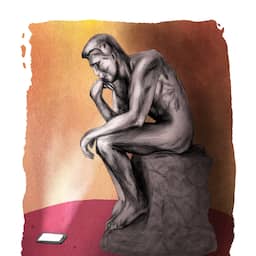 An hour has scrolled away on social media. Not everyone is waiting for that, but at the same time, a world without social media is almost impossible to imagine. How do we future-proof our relationship with social media?
This article comes from Het Parool. Every day a selection of the best articles from the newspapers and magazines appears on NU.nl. You can read more about that here.
New Year New chances. New hours to spend in nature, or with close family, or scrolling on Instagram or TikTok. Entrepreneur Babet Cleo (29) wants to get rid of the latter in any case. Over the past year she has scrolled away quite a bit.
"While I don't like it at all, I was watching videos about baking sandwiches and fitness all the time," says Cleo. "My algorithm has now even included waves and ships." She found herself spending way more time on social media than she cared to. Reason for her to discuss her social media use with her therapist.
"He reassured me somewhat: I thought I always failed to discipline myself, but he explained to me that my brain is susceptible to the stimuli that social media respond to." She recalls that she was recently on the bus and saw all the young people around her change videos every ten seconds on TikTok or Instagram. "Like we were in Black Mirror."
Digital minimalism
Philosophy student Tabe Bakker (26), who has largely exchanged his iPhone for a Nokia, shares the same idea. "Digital minimalism," as he says he practices, "is now what we call a lifestyle, when it used to be normal." Bakker has had a problematic relationship with it ever since he started using social media. That started in 2009 with the creation of a Twitter account. "I felt like we were building a new, better world with social media."
But when he looks back on it now, it didn't go well for him. He slept badly, couldn't concentrate at school, dragged an iPad to class. He suffered from the 'Google effect': that you immediately forget what you look up on the internet because your attention span has become so short. Four years ago, his mother sent him to a silent retreat for two weeks, where he developed a fever as a withdrawal symptom.
"If you leave me alone with a smartphone, things will go wrong," says Bakker. Only: you can't do without a smartphone completely. "For example, I can't bank or scan a QR code." What he does now: in principle he can be reached by Nokia, so only by calling or texting, but he is allowed to use the internet via his smartphone for one hour a day, while strictly timing this. And then he can also use Twitter or Instagram, but then he has less time left for the much needed.
The fact that social media can no longer be ignored in our lives is also apparent from the national usage figures of Statistics Netherlands. Last year, 90 percent of people used the internet daily, compared to 87 percent of the Dutch in 2020. Nine out of ten Dutch people use WhatsApp; seven out of ten (also) another social medium.
There are no more concrete figures: Facebook and Twitter, for example, do not disclose how many Dutch people use their medium. Statistics Netherlands did calculate that 97 percent of the youngest age group (12 to 25 years) used social media on a daily basis in 2019. For Dutch people aged 75 or older, this is four out of ten.
Banal
Where are we now in our dealings with the – no longer so new – phenomenon of social media? What opportunities and dangers will its use present in the near future, and what influence do we still have on that?
First things first: the pandemic has changed how we deal with social media, says professor of media studies Mark Deuze of the University of Amsterdam (UvA). If social media had not already conquered and consolidated their place in our society, it did during corona. For a while we could do nothing but zoom and app with each other, in times of lockdowns and risk of contamination.
"On the one hand, social media were indispensable at the time and gave new opportunities," says Deuze. Think of the possibility to watch a series together remotely: to stream and chat at the same time. "On the other hand, we also noticed that they did not give us enough satisfaction. Whenever possible, nature reserves filled up, or people bought bicycles and trampolines en masse."
According to Deuze, the result of the corona pandemic is that our use of social media has become 'banal' – a word he chooses carefully. "I want to say that for many people it is no longer something special to be on a social medium. It is like wearing jeans, it has become the standard."
It's true: those who try to banish social media often miss the summaries that are shared on the Facebook group of the study, or the move of that one old friend that he announces on Instagram, or the invitation to the informal work drink on WhatsApp .
Time leaks away
That doesn't make the coming period any less exciting. According to the professor, how we allow social media into our lives can go in two directions. It could be that we will be more aware of social media and not let it dictate our lives anymore. "Then Facebook can still send you a hundred reminders to open the app, but you are no longer sensitive to it," Deuze explains.
A rosy scenario is that users think carefully about what they want from their social media use. Why do I choose the medium I use? What do I want to extract? "It has then become purely an instrument on your keychain. Instead of going through an entire reading folder, you opt for the Dragonfly with conviction and outspoken." In a manner of speaking, Deuze clarifies.
Or it could be that we are no longer aware of our social media use at all and that social media will start making decisions for us. According to Professor of Media, Youth and Society Patti Valkenburg (also UvA), that fact is already emerging. In her studies, she sees that 'time is leaking away on social media': young people who think they have spent half an hour scrolling, are actually one and a half hours further.
"If we ask young people about their screen time," says Valkenburg, "sometimes fourteen hours a day pass by."
She sees more critical articles in science about social media than before. This is partly due to the fact that algorithms are involved in newer social media, such as TikTok. "That app completely adapts to your preferences, which makes it extremely tempting to keep scrolling."
Spreading disinformation
There are plenty of recent examples of how volatile social media is. Tesla billionaire Elon Musk bought Twitter last fall and immediately changed the policy of the medium in a radical way. Blocked accounts – such as that of former President Donald Trump, who was banned from the platform after calling on his supporters to storm the US Capitol – were reactivated, while journalists who criticized Musk's methods were banned.
Or take the Chinese platform TikTok, extremely popular among 'generation Z' (roughly now between 10 and 25 years old). The app's privacy policy has been modified to allow Chinese employees to access user data; State Secretary Alexandra van Huffelen (Digitization) calls it a 'worrying development'. While the TikTok target group is not very resilient to face the app, says Valkenburg.
Valkenburg also points to the rapid spread of disinformation and misinformation on platforms such as Facebook and Twitter, which have already led to serious threats to democracy: think of President Trump's call to storm the Capitol, which killed five people . "Around the world, we've seen populism and the anti-vax movement gain momentum through social media."
But social media can also give wings to social movements on the other side of the spectrum. Babet Cleo mentions the MeToo movement, which gave actress Alyssa Milano much more traction in 2017 with a single tweet. The Arab Spring of 2010 and 2011 could never have become so big without the stage that social media gave to the protests in Egypt, Tunisia and Libya, among others.
Instagram blocked
According to Cleo, the motto is: discipline. As a parent it is important to discipline your child, as an adult to discipline yourself. That is easier for some than for others, says Valkenburg: this has to do with differences in vulnerability. Some young people can resist the temptations of social media better than others. And she emphasizes that about 80 percent of people use social media 'just fine': that is, they show no signs of dependency.
A golden tip to get into or stay within that group of 80 percent? "Put the phone away after eight o'clock in the evening," advises Valkenburg, for example, "and in any case, don't take the phone to bed."
You can also take a more rigorous approach, as the Amsterdam student Marnix Littooij (23) did. He has been working full-time in Rotterdam since early 2023, at a research agency to which he took the train three days a week last year. His goal: to be less distracted by his phone during the day at work, so that his concentration and attention span at work do not suffer.
A major culprit was Instagram: he spent a lot of time on it. That's why he deleted that app from his phone two months ago. "I deliberately did not take TikTok, but then Instagram started copying that network somewhat with the reels. Before I knew it, I was watching those kinds of videos for an hour." What did Instagram bring him? "I like seeing what friends are up to and where they're traveling through their Instagram stories."
He then only used Instagram via the internet page – 'already a lot less user-friendly and beautiful' – but then still wasted at least an hour a day watching the stories 'of people who don't care anyway, because I haven't seen them for, say, five years. have seen'. He ended up blocking his phone's Instagram web page, preventing him from accessing it. "I don't even know how to take that off." What is he doing on the train now? "I read the newspaper more often."
Silicon Valley
Professor of media studies Mark Deuze also points to the conscious use functions that often newer phones offer, such as turning notifications on and off, or tracking screen time. Entrepreneur Babet Cleo notices that her friends who are influencers or work in marketing, and therefore often have to work with social media, are 'more aware than ever' when it comes to their social media use. For example, they choose fixed times during the day to pick up the phone, or hire an assistant to keep their profiles up to date.
The development seems to coincide with the fact that many top executives from Silicon Valley are actually forbidding their children to spend too much time behind their smartphones and tablets, as The New York Times described in a major article four years ago.
Closer to home, Deuze hopes that the conversation between parent and child about social media will take on a more equal form. "Before COVID-19, social media were mainly used as a means of punishment: if you don't do your homework, you can't use the smartphone," he says. "Nowadays, parents also use social media extensively. That makes the conversation different."
Three radios
In essence, social media has become an extension of real life. Mark Zuckerberg, founder of Facebook, has once expressed the wish that we will live in a 'metaverse', in which everything seems digital. That still seems like fantasy for now.
More realistic – and healthier – for the future is that we adjust devices and social media according to our wishes and needs, thinks Deuze. After all, we already do that with the established media. Deuze talks about an elderly woman he encountered who uses three radios, each for a different station. You may find it unnecessary, because you can also simply change channels on each of the radios, but this way the lady thought it worked well for her.
And so we are increasingly using Twitter, Instagram, Facebook and TikTok in a dosed way that works for us: as a means of maintaining contact, to stay informed or just for fun.
---
---