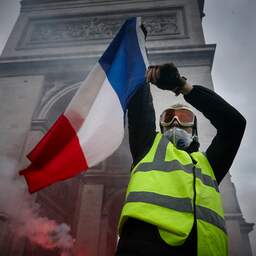 'Yellow Vests' demonstrate in major French cities against the high cost of living, among other things. At the start in Paris, there were immediately clashes between police and demonstrators on Avenue de Breteuil. The 'Yellow Vests' say the police wanted to block their protest march.
Throughout France, organizers have registered demonstrations of 'Yellow Vests' and 'angry citizens'. But as in the years 2018-2019, the protesters do not all have the same goal. Some argue against the reform of the pension system or for the abolition of the remaining corona measures.
It is unclear how many people support the street protests of the 'Yellow Vests'. Leading figures in the protest movement have hundreds of thousands of followers, but are ambiguous about Saturday's demonstrations. Some of them don't even mention them.
At the end of 2018, a massive protest movement sprang up spontaneously in France: the 'Yellow Vests'. For a long time, people of different political affiliations took to the streets almost weekly to demonstrate against Macron's policies. In the first place, this was against the increase in the prices of petrol and diesel.
The ongoing mass protests have forced Macron to scrap his plans, which were intended to support his climate policy.
The 'Yellow Vests' are not the only ones demonstrating in Paris on Saturday. Thousands of Kurds from many countries have also held a protest march in the French capital. Flags of the PKK, which is regarded as a terrorist movement, were also taken along.
According to the organizers, about 25,000 people turned out. The reason is the murder of three Turkish Kurds in Paris in 2013 and an attack on Kurds in the same city on December 23, 2022, which also killed three.
---
---